Post by MilliM on Oct 26, 2010 8:33:44 GMT 2
Sim Game Horse - Virtuaalihevonen
Grulla Quarab Stallion (18,75% Arabian) horse filly for Reining, Cutting, Roping
Sox Em Bro "Pow"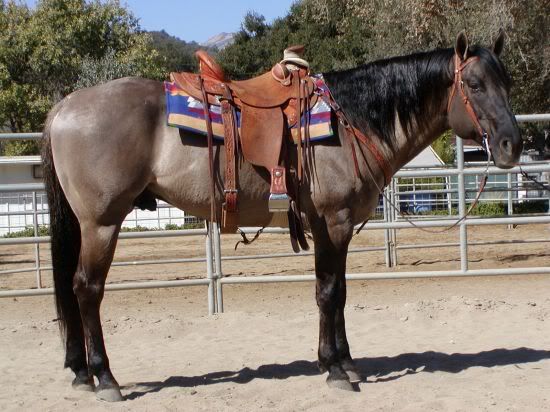 Copyrigts:
Miles Michelson
under CC
Sired by
Sox Em Biankus
out of
Ch. Ambrozia
Born: 17.4.2009
Standing at 15.2hh
Breeder:
Hawk Ridge
Pow came to our stable year 2010 from Hawk Ridge to fill in our new western woking breeding line. He is a incredible good looking man and will fit well to our heard.
He is quite a character, but I love spicy horses. This horse has mind of his own and he will show it to you. You need to be carefull on anytimes with him and you will manage well. When you are grooming him, please tight him all times to avoid accidents. This way you donät have to be on your toes all times. If you are determent you will manage well with this horse. After a while this horse finds his way of living with the person and some of his "bad" habits starts to lose. Because of this Pow is one persons horse.
As a race horse he is incredible. In competitions he is doing everything to make sure that you two are going to win. He is going to fight until the end for champion ribbon. He loves the winners circle. This is the reason I want to keep him in my stable for long time. This determination that he has is good add of character to our breeding line.
Aging
3yo - 17.7.2009
4yo - 17.1.2010
5yo - 17.7.2010
6yo - 17.1.2011
Extended pedigree
(18,75% Arabian blood)
Sired by
Sox Em Biankus
(QH)
Latchets Vandi Sox (Latchet x Vandy Needle)
Betsi Bar Biankus (Mr Bar Barred x Kee Kee Biankus)
Foaled out of
Ch. Ambrozia
(Quarab, 37.5% Arabian)
Skipa Star
(Skippers Lad [QH] x Pats Dusty Star [QH])
Skipaneh (Fadjur [Arabian] x MG Skipafeh [Quarab, 50% Arabian])
Purchase Conditions
- Kalla of Hawk Ridge reserves buy-backs, & requires a current URL at all times.
- Stats may not change, including disciplines.
- Must remain active in the All-Sim Quarter Horse Registry on WWS.
- This horse may be speed-aged, as long as it remains 3 years younger than sire & dam.
- Discuss any plans to import the horse into a sim horse game with Kalla first.
ASWCHAASWCHA Points:
ASWCHA Earnings:
ASQHRASQHR Points:
380pts
ASQHRTitle:
Grand Champion
2010 ASQHR HR Quadro-Sanctioned H/A Series 2 Reining Jr. Horse TOP TEN 10pts $1,000
2010 ASQHR HR Quadro-Sanctioned H/A Series 2 Cutting Jr. Horse TOP TEN 10pts $1,000
2010 ASQHR International Year-End Junior Open Cutting TOP TEN 20pts $2,000
2010 ASQHR International Year-End Event Junior Open Calf Roping TOP TEN 20pts $2,000
2010 ASQHR Chrysler New Years Gala Limited Reining TOP TEN 10pts $1,000
2010 ASQHR Chrysler New Years Gala Junior Cutting TOP TEN 10pts $1,000
2010 ASQHR Chrysler New Years Gala Junior Calf Roping TOP TEN 10pts $1,000
2010 ASQHR Chrysler New Years Gala Limited Calf Roping RESERVE CHAMPION 20pts $20,000
2010 ASQHR Chrysler Zippo Pine Bar Annual Memorial SME Junior Reining TOP TEN 20pts $2,000
2010 ASQHR Chrysler Zippo Pine Bar Annual Memorial SME Limited Reining
CHAMPION 20pts $20,000
2010 ASQHR Chrysler Zippo Pine Bar Annual Memorial SME Junior Cutting TOP TEN 20pts $2,000
2010 ASQHR Chrysler Zippo Pine Bar Annual Memorial SME Junior Calf Roping TOP TEN 20pts $2,000
2011 ASQHR Dodge Laerabye Limited Reining RESERVE CHAMPION 20pts $20,000
2011 ASQHR Dodge Laerabye Limited Cutting TOP TEN 10pts $1,000
2011 ASQHR Dodge Laerabye Junior Calf Roping TOP TEN 10pts $1,000
2011 ASQHR Dodge Laerabye Limited Calf Roping TOP TEN 10pts $1,000
2011 ASQHR Amazon International Junior Reining TOP TEN 10pts $1,000
2011 ASQHR Seattle Arena Junior Calf Roping RESERVE CHAMPION 20pts $20,000
2011 ASQHR Hollywood Dun It Annual Memorial SME Junior Reining CHAMPION 20pts $20,000
2011 ASQHR Hollywood Dun It Annual Memorial SME Junior Calf Roping CHAMPION 20pts $20,000
2011 ASQHR Quarterly Invitational SME Junior Calf Roping TOP TEN 20pts $2,000
2011 ASQHR Jeep Sponsored Event Junior Cutting TOP TEN 10pts $1,000
2011 ASQHR Hostess Frito-Lay Circuit Junior Calf Roping TOP TEN 10pts $1,000
2011 ASQHR Ubisoft & Blizzard Classic Junior Calf Roping TOP TEN 10pts $1,000
2011 ASQHR Northwest Territories Arena Junior Cutting TOP TEN 10pts $1,000
2011 ASQHR Northwest Territories Arena Junior Calf Roping TOP TEN 10pts $1,000
AHACAHAC Points:
AHACTitle:
2010 AHAC HR Quadro-Sanctioned H/A Series 2 Reining Jr. Horse TOP TEN 2pts
2010 AHAC HR Quadro-Sanctioned H/A Series 2 Cutting Jr. Horse TOP TEN 2pts