Post by MilliM on Oct 5, 2010 7:30:51 GMT 2
Sim Game Horse - Virtuaalihevonen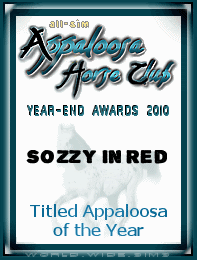 Sorrel Blanket Appaloosa Filly for Working Cow Horse: Reining, Roping, Cutting
SCh./SCh. Sozzy In Red "Jewels"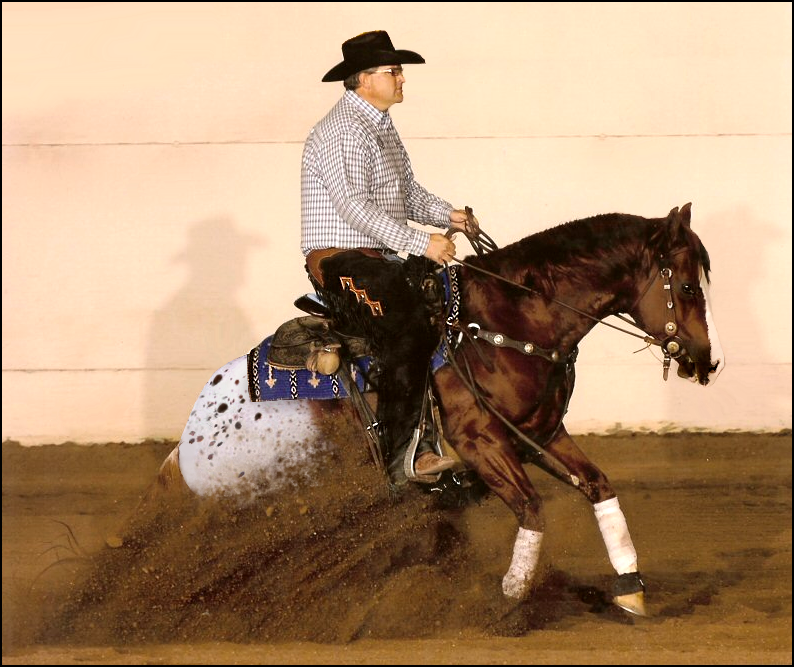 Photograph provided under creative commons license from Foto search
Stock Photography and Stock Footage
Sired by
GCh./SCh. Tabasco Sozz**
out of
GCh. Red Magnolia
DOB: April 23 2006
Height/Säkä: 15.3hh
Extended pedigree
Sired by
GCh./SCh. Tabasco Sozz**
Sozzed Up (Sozzin Goer x Blue Addict)
Brazen (Desert Diamond x Decka Pana)
Foales out of
GCh. Red Magnolia
Red Roguer (Pageriffic x Dignified)
Magnolia Gay (Magnolia Pay x Deena Gay)
Offspring
Previous owner tells about her...
Built like a dream, this stunning mare was bred properly (and to the hilt) from start to finish,
and it's obvious in every movement she makes. She is flashy and crowd-pleasing, loves to show off,
and truly adores people. She rides like the wind, and loves a hard gallop and a challenging workout,
but also knows when it is time to buckle down and concentrate on the more precise and focused
cues. She was made to slide, and she loves to work cattle, both in the arena and out of the ranch
grounds. Not only is this a supreme working western horse, but she can also stun the judges in any
halter class (a tribute to her maternal grand-sire, who is an exceptional halter horse). Another
awesome Appaloosa of the fabulous Tabasco Sozz** lineage, proving her bloodlines in all-sim.
CONDITIONS OF SALE
> Kalla Hawk reserves buy-back rights and/or first refusal for life.
> If horse is sold, my conditions will remain effective to the new owner also.
> If this horse is inactive for a substantial length of time, Kalla will reclaim.
> Kalla Hawk requires URLs for any foals this horse may have in future.
> Horse will compete ONLY in the classes as listed, and/or In-Hand.
> If retired to breeding status, horses will still show in occasional Halter classes.
> If remaining in all-sim, horse MUST be actively shown on WWS & SAI - at least.
> Horse may be imported into a sim horse game, but Kalla MUST be notified.
> Horse may be aged to 3 years younger than sire & dam. Other stats may not change.
> Any new photographs or photo changes MUST be approved by Kalla Hawk.
> Appaloosas MUST be actively shown in the All-Sim Appaloosa Horse Club.
> Unless otherwise noted, the horse MUST be actively shown in the All-Sim Working Cow Horse Association.
> Conditions of Sale MUST be posted on the horse's new page, or horse will be reclaimed.
COMPLETE SHOW RECORD
Lifetime Earnings:
$725,500
All-Sim Appaloosa Horse Club Points:
1755
All-Sim Working Cow Horse Association Points:
580
All-Sim Stock Horse Association Points:
65
Reining & Cutting Horse Arena:
68
Other Barn & Non-Club Points:
390
All-Sim Points Total:
1,903
Overall Show Titles:
Grand Champion Titled Horse of Show: ASWCHA March Mare Event [$50,000 + 50 pts]
Honorable Mention of Show: ASApHC Enya International [$30,000 + 30 pts]
2010 ASApHC International Year-End Qualifiers 2 Reserve Champion of Show #2 $40,000 + 40 pts
2010 ASApHC Titled Appaloosa of the Year: 65 pts + $65,000
Qualifications
2010 ASApHC International Year-End Qualifiers 2 Limited Cutting TOP THREE 10pts $1,000
2010 ASApHC International Year-End Qualifiers 2 Limited Reined Cow Horse TOP THREE 10pts $1,000
2010 ASApHC International Year-End Qualifiers 2 Limited Calf Roping TOP THREE 10pts $1,000
2010 ASApHC 2010 International Year-End Qualifiers 3 Junior Open Cutting TOP THREE 10pts $1,000
2010 ASApHC 2010 International Year-End Qualifiers 3 Junior Open Calf Roping TOP THREE 10pts $1,000
Divisional Show Titles:
Champion: Junior Working Cow Horse @ ASSHA European Championships 2010 (10 pts)
Champion: Junior Working Cow Horse @ ASSHA Great Lakes Classic 2010 (10 pts)
Champion: Jr. Mare Limited Reining Division @ RCHA April 2010 Essex County Classic (10 pts + $5,000)
Champion: Junior Mare Limited Reining Division @ RCHA April 2010 Lake Placid Classic (10 pts + $5,000)
Reserve Champion of Suitability Division: WWS New Years Celebration 2009 ($40,000 + 40 points)
Reserve Champion: Open Mare Reining - New Year Reining Show, Apple Hill Farms ($2,500 + 8 pts)
Reserve Champion: Junior Cutting Class @ ASSHA Dixie Horse Classic 2010 (5 pts)
Reserve Champion: Four Year Old Mares at Halter @ ASSHA Region II Experience 2010 (5 pts)
Reserve Champion: Junior Working Cow Horse @ ASSHA Region II Experience 2010 (5 pts)
Reserve Champion: Junior Mare Novice Cutting @ RCHA April 2010 Lake Placid Classic (8 pts + $3,500)
2010 ASWCHA Madrid Classic Junior Open Reining Mare RESERVE CHAMPION 20 pts $20,000
2010 ASWCHA Madrid Classic Junior Limited Cutting CHAMPION 20 pts $20,000
2010 ASWCHA Madrid Classic Junior Open Roping Mare RESERVE CHAMPION 20 pts $20,000
2010 ASWCHA Madrid Classic Junior Open Cutting Mare CHAMPION 20 pts $20,000
2010 ASApHC October Western Bonanza Junior Limited Reining CHAMPION 20pts $20,000
2010 ASApHC International Year-End Event Freestyle Reining CHAMPION 30pts $3,000
2010 ASApHC International Year-End Event Limited Reining RESERVE CHAMPION 25pts $2,500
2010 ASApHC International Year-End Event Junior Open Calf Roping RESERVE CHAMPION 25pts $2,500
2011 ASApHC Catherby Competition Junior Reined Cow Horse RESERVE CHAMPION 20pts $20,000
2011 ASApHC Klein Masters Freestyle Reining CHAMPION 20pts $20,000
2011 ASApHC Klein Masters Junior Reined Cow Horse CHAMPION 20pts $20,000
2011 ASApHC Ambry Arena Junior Reining CHAMPION 20pts $20,000
Top Tens:
Top Ten: Cutting Division, Futurity - WWS C/R/R Series, show two [$10,000 + 10 pts]
Top Ten: Reining Division, Futurity - WWS C/R/R Series, show two [$10,000 + 10 pts]
Top Ten: Roping Division, Futurity - WWS C/R/R Series, show two [$10,000 + 10 pts]
Top Ten: Roping Division, Open - WWS C/R/R Series, show two [$10,000 + 10 pts]
Top Ten: Western Suitability Filly/Colt - WWS New Years Celebration 2009 [$20,000 + 20 pts]
Top Ten: Cutting Futurity Class - WWS New Years Celebration 2009 [$20,000 + 20 pts]
Top Ten: Reining Futurity Class - WWS New Years Celebration 2009 [$20,000 + 20 pts]
Top Ten: Working Cow Horse Futurity - WWS New Years Celebration 2009 [$20,000 + 20 pts]
Top Ten: Roping Futurity - WWS New Years Celebration 2009 [$20,000 + 20 pts]
Top Ten: Four Year Old at Halter - WWS Dec09 Age Halter Event ($10,000 + 10 pts)
Top Ten: Cutting Futurity - WWS C/R/R Series, Show Three [$10,000 + 10 pts]
Top Ten: Open Cutting Division - WWS C/R/R Series, Show Three [$10,000 + 10 pts]
Top Ten: Reining Futurity - WWS C/R/R Series, Show Three [$10,000 + 10 pts]
Top Ten: Roping Futurity - WWS C/R/R Series, Show Three [$10,000 + 10 pts]
Top Ten: Filly/Colt In-Hand Class - ASApHC Chevrolet In-Hand Classic [$10,000 + 10 pts]
Top Ten: Open In-Hand Class - ASApHC Chevrolet In-Hand Classic [$10,000 + 10 pts]
Top Ten: Blanket/Ext.Blanket Pattern Class - ASApHC Chevrolet In-Hand Classic [$10,000 + 10 pts]
Top Ten: Futurity In-Hand Class - ASApHC Chevrolet In-Hand Classic [$10,000 + 10 pts]
Top Ten: Open Ages In-Hand Class - ASApHC Chevrolet In-Hand Classic [$10,000 + 10 pts]
Top Ten: Filly at Liberty Class - ASApHC Chevrolet In-Hand Classic [$10,000 + 10 pts]
Top Ten: Open Liberty Class - ASApHC Chevrolet In-Hand Classic [$10,000 + 10 pts]
Top Ten: Futurity Roping Class - ASApHC Roping Showcase 8 [$10,000 + 10 pts]
Top Ten: Open Roping Class - ASApHC Roping Showcase 8 [$10,000 + 10 pts]
Top Ten: Mare/Filly Roping Class - ASApHC Roping Showcase 8 [$10,000 + 10 pts]
Top Ten: Futurity Cutting Class - ASApHC Cutting Showcase 8 [$10,000 + 10 pts]
Top Ten: Open Cutting Class - ASApHC Cutting Showcase 8 [$10,000 + 10 pts]
Top Ten: In-Hand Division - Open Class - ASApHC Western Showcase 5 [$10,000 + 10 pts]
Top Ten: Reining Division - Junior Class - ASApHC Western Showcase 5 [$10,000 + 10 pts]
Top Ten: Reining Division - Open Class - ASApHC Western Showcase 5 [$10,000 + 10 pts]
Top Ten: WCH Division - Junior Class - ASApHC Western Showcase 5 [$10,000 + 10 pts]
Top Ten: WCH Division - Open Class - ASApHC Western Showcase 5 [$10,000 + 10 pts]
Top Ten: Open In-Hand Class - ASApHC New Years Halter Showcase [$10,000 + 10 pts]
Top Ten: Open Bridle WCH Junior~ ASWCHA First Working Classic [$1,000 + 10 pts]
Top Ten: Combination Cutting/Roping Junior ~ ASWCHA First Working Classic [$1,000 + 10 pts]
Top Ten: Two Rein WCH Mare Junior ~ ASWCHA First Working Classic [$1,000 + 10 pts]
Top Ten: Open Bridle WCH Junior Mare - ASWCHA January Spec Event [$1,000 + 10 pts]
Top Ten: Two Rein WCH Junior Mare - ASWCHA January Spec Event [$1,000 + 10 pts]
Top Ten: Working Cow Horse Open - WWS NY Cow Horse Event, Jan/2010 [$1,000 + 20 pts]
Top Ten: Roping Junior Class - WWS NY Cow Horse Event, Jan/2010 [$1,000 + 20 pts]
Top Ten: Roping Open Class - WWS NY Cow Horse Event, Jan/2010 [$1,000 + 20 pts]
Top Ten: Musical Freestyle Reining Junior (4-7 y/o) WWS Reining Mastership #1 [$1,000 + 10 pts]
Top Ten: Musical Freestyle Reining Open (all ages) WWS Reining Mastership #1 [$1,000 + 10 pts]
Top Ten: Speed Roping Junior (age 4-7 y/o) WWS Roping Mastership #1 [$10,000 + 10 pts]
Top Ten: Cutting Junior - WWS C/R/R Series, show 4, January 2010 ($1,000 + 10 points)
Top Ten: Junior Reining - WWS C/R/R Series, show 4, January 2010 ($1,000 + 10 points)
Top Ten: Roping Junior - WWS C/R/R Series, show 4, January 2010 ($1,000 + 10 pts)
Top Ten: Junior Mare Halter Class - New Year Halter, Apple Hill Farms (4 pts)
Top Ten: Junior Open Halter Class - New Year Halter, Apple Hill Farms (4 pts)
Top Ten: Junior Mare Reining Class - New Year Reining Show, Apple Hill Farms (4 pts)
Top Ten: Four Year Old at Halter - WWS Jan2010 Supreme Halter Event [$1,000 + 10 pts]
Top Ten: Reg. Reining Junior (age 4-7 y/o) WWS Reining Mastership #2 [$1,000 + 10 pts]
Top Ten: Timed Freestyle Reining Junior (4-7 y/o) WWS Reining Mastership #2 [$1,000 + 10 pts]
Top Ten: Musical Freestyle Reining Open (all ages) WWS Reining Mastership #2 [$1,000 + 10 pts]
Top Ten: Combination Cutting/Roping Junior - ASWCHA Second Working Classic [$1,000 + 10 pts]
Top Ten: Four Year Old at Halter - ASWCHA January In-Hand Show [$1,000 + 10 pts]
Top Ten: Junior Horse at Liberty ~ ASWCHA January In-Hand Show [$1,000 + 10 pts]
Top Ten: Open Combination Roping Mare - ASWCHA January Mare Event [$1,000 + 10 pts]
Top Ten: Open Bridle Working Cow Horse Jr - ASWCHA Third Working Classic [$1k + 10 pts]
Top Ten: Limited Bridle Working Cow Horse Jr - ASWCHA Third Working Classic [$1k + 10 pts]
Top Ten: Junior Reining (4-7y/o) ASApHC January 2010 R/C Classic {$1,000 + 10 pts}
Top Ten: Junior Cutting (4-7y/o) ASApHC January 2010 R/C Classic {$1,000 + 10 pts}
Top Ten: Open Cutting (all ages) ASApHC January 2010 R/C Classic {$1,000 + 10 pts}
Top Ten: Jr Reining Freestyle - ASApHC January 2010 Fancy Western Show [$1,000 + 10 pts]
Top Ten: Four Year Old at Halter - ASApHC Aubrie International [$1,000 + 10 pts]
Top Ten: Lunge Line Division, Open - ASApHC Aubrie International [$1,000 + 10 pts]
Top Ten: Four Year Old at Halter - ASApHC Anson International [$1,000 + 10 pts]
Top Ten: Junior Horse at Liberty - ASApHC Anson International [$1,000 + 10 pts]
Top Ten: Lunge Line, Open Class - ASApHC Anson International [$1,000 + 10 pts]
Top Ten: Walk/Jog Showmanship, Junior - ASApHC Anson International [$1,000 + 10 pts]
Top Ten: Reining Junior Class - ASApHC Feb2010 WCH Classic [$1,000 + 10 pts]
Top Ten: Open Freestyle Reining Class - ASApHC Feb2010 WCH Classic [$1,000 + 10 pts]
Top Ten: Cutting Junior Class - ASApHC Feb2010 WCH Classic [$1,000 + 10 pts]
Top Ten: Junior Roping Class - ASApHC Feb2010 WCH Classic [$1,000 + 10 pts]
Top Ten: Four Year Old at Halter ~ ASApHC Avery Belle International [$1,000 + 10 pts]
Top Ten: Open Age at Halter ~ ASApHC Avery Belle International [$1,000 + 10 pts]
Top Ten: Junior Cutting Class - ASApHC Feb2010 Roping Spotlight [$1,000 + 10 pts]
Top Ten: Open Cutting Class - ASApHC Feb2010 Roping Spotlight [$1,000 + 10 pts]
Top Ten: Junior Breakaway Roping - ASApHC Feb2010 Roping Spotlight [$1,000 + 10 pts]
Top Ten: Open Breakaway Roping - ASApHC Feb2010 Roping Spotlight [$1,000 + 10 pts]
Top Ten: Four Year Old at Halter | ASApHC Enya International | $1,000 + 10 pts
Top Ten: Open Age at Halter | ASApHC Enya International | $1,000 + 10 pts
Top Ten: Blanket Pattern at Halter | ASApHC Enya International | $1,000 + 10 pts
Top Ten: Walk/Jog Showmanship, Jr | ASApHC Enya International | $1,000 + 10 pts
Top Ten: Junior Reining Class - ASApHC February 2010 R/C Classic ($1,000 + 10pts)
Top Ten: Open Reining All Ages - ASApHC February 2010 R/C Classic ($1,000 + 10pts)
Top Ten: Open Cutting (all ages) ASApHC February 2010 R/C Classic ($1,000 + 10pts)
Top Ten: Junior Timed Roping - ASApHC Feb2010 Roping Spotlight II [$1,000 + 10 pts]
Top Ten: Junior Cutting - ASApHC Feb2010 Roping Spotlight II [$1,000 + 10 pts]
Top Ten: Junior Calf Roping - ASApHC Feb2010 Roping Spotlight II [$1,000 + 10 pts]
Top Ten: Four Year Old at Halter @ ASApHC Arija In-Hand International #1 [$1,000 + 10 pts]
Top Ten: Junior Reining (4-7y/o) ASApHC LeapYear Roping Classic 1 [$1,000 + 10 pts]
Top Ten: Junior Roping Class @ ASApHC LeapYear Roping Classic 1 [$1,000 + 10 pts]
Top Ten: Open Working Cow Horse @ ASApHC LeapYear Roping Classic 1 [$1,000 + 10 pts]
Top Ten: Junior Reining Class - ASApHC March 2010 R/C Classic [$1,000 + 10 pts]
Top Ten: Open Reining (all ages) ASApHC March 2010 R/C Classic [$1,000 + 10 pts]
Top Ten: Junior Cutting Class - ASApHC March 2010 R/C Classic [$1,000 + 10 pts]
Top Ten: Open Cutting Class - ASApHC March 2010 R/C Classic [$1,000 + 10 pts]
Top Ten: Junior Reining Class - ASApHC LeapYear Roping Classic 3 [$1,000 + 10 pts]
Top Ten: Junior Roping Class - ASApHC LeapYear Roping Classic 3 [$1,000 + 10 pts]
Top Ten: Open Freestyle Reining Class @ ASApHC LeapYear Roping Classic 4 [$1,000 + 10 pts]
Top Ten: Junior Cutting Class @ ASApHC LeapYear Roping Classic 4 [$1,000 + 10 pts]
Top Ten: Junior Working Cow Horse @ ASApHC LeapYear Roping Classic 4 [$1,000 + 10 pts]
Top Ten: Two Rein WCH Mare @ ASWCHA Fourth Working Classic [$1,000 + 10 pts]
Top Ten: Open Bridle WCH Mare @ ASWCHA February Mare Spotlight [$1,000 + 10 pts]
Top Ten: Open Combination Cutting Mare @ ASWCHA February Mare Spotlight [$1,000 + 10 pts]
Top Ten: Junior Breakaway Roping Class @ ASSHA Breeders Show February 2010 (2 pts)
Top Ten: Senior Breakaway Roping @ ASSHA Region I Experience 2010 (2 pts)
Top Ten: Junior Reining Class @ ASSHA Dixie Horse Classic 2010 (2 pts)
Top Ten: Junior Calf Roping Class @ ASSHA Dixie Horse Classic 2010 (2 pts)
Top Ten: Junior Breakaway Roping @ ASSHA Dixie Horse Classic 2010 (2 pts)
Top Ten: Junior Calf Roping Class @ ASSHA Florida State Fair 2010 (2 pts)
Top Ten: Junior Calf Roping Class @ ASSHA Region II Experience 2010 (2 pts)
Top Ten: Junior Breakaway Roping Class @ ASSHA Region II Experience 2010 (2 pts)
Top Ten: Junior Roping Class @ ASApHC LeapYear Roping Classic 2 [$1,000 + 10 pts]
Top Ten: Junior Working Cow Horse @ ASApHC LeapYear Roping Classic 2 [$1,000 + 10 pts]
Top Ten: Open Cutting Class @ ASApHC LeapYear Roping Classic 5 [$1,000 + 10 pts]
Top Ten: Junior Roping Class @ ASApHC LeapYear Roping Classic 5 [$1,000 + 10 pts]
Top Ten: Junior Working Cow Horse @ ASApHC LeapYear Roping Classic 5 [$1,000 + 10 pts]
Top Ten: Cutting Div. Junior @ ASApHC LeapYear Roping Classic 6 [$1,000 + 10 pts]
Top Ten: Junior Roping Class @ ASApHC LeapYear Roping Classic 6 [$1,000 + 10 pts]
Top Ten: Junior Working Cow Horse @ ASApHC LeapYear Roping Classic 6 [$1,000 + 10 pts]
Top Ten: Open Hackmore WCH Junior @ ASWCHA 5th Working Classic ($1,000 + 10 points)
Top Ten: Combination Cutting/Roping Junior @ ASWCHA 5th Working Classic ($1,000 + 10 points)
Top Ten: Combination Cutting/Roping Junior @ ASWCHA 6th Working Classic ($1,000 + 10 points)
Top Ten: Junior Reining Class @ ASSHA Canadian Nationals 2010 (2 pts)
Top Ten: Junior Calf Roping @ ASSHA American Stock Horse Classic 2010 (2 pts)
Top Ten: Junior Breakaway Roping @ ASSHA Super Eight Show 2010 (2 pts)
Top Ten: Limited Bridle WCH Mare @ ASWCHA March Mare Event [$1,000 + 10 pts]
Top Ten: Open Hackamore WCH Mare @ ASWCHA March Mare Event [$1,000 + 10 pts]
Top Ten: Limited Hackamore WCH Mare @ ASWCHA March Mare Event [$1,000 + 10 pts]
Top Ten: Limited Combination Cutting Mare @ ASWCHA March Mare Event [$1,000 + 10 pts]
Top Ten: Limited Combination Roping Mare @ ASWCHA March Mare Event [$1,000 + 10 pts]
Top Ten: Open Two Rein WCH Mare @ ASWCHA March Mare Event [$1,000 + 10 pts]
Top Ten: Limited Two Rein WCH Mare @ ASWCHA March Mare Event [$1,000 + 10 pts]
Top Ten: Limited Reining Freestyle Mare @ ASWCHA March Mare Event [$1,000 + 10 pts]
Top Ten: Open Combination Reining Mare @ ASWCHA March Mare Event [$1,000 + 10 pts]
Top Ten: Limited Combination Reining Mare @ ASWCHA March Mare Event [$1,000 + 10 pts]
Top Ten: Open Bridle WCH Junior ~ ASWCHA 7th Working Classic [$1,000 + 10 pts]
Top Ten: Two Rein WCH Junior ~ ASWCHA 7th Working Classic [$1,000 + 10 pts]
Top Ten: Open Hackamore WCH Junior @ ASWCHA Eighth Working Classic [$1,000 + 10 pts]
Top Ten: Combination Cutting/Roping Junior @ ASWCHA Eighth Working Classic [$1,000 + 10 pts]
Top Ten: Two Rein WCH Junior @ ASWCHA Eighth Working Classic [$1,000 + 10 pts]
Top Ten: Limited Hackamore WCH Mare - ASWCHA 1st Mare Classic ($1,000 + 10 points)
Top Ten: Limited Combination Cutting Mare - ASWCHA 1st Mare Classic ($1,000 + 10 points)
Top Ten: Limited Two Rein WCH Mare - ASWCHA 1st Mare Classic ($1,000 + 10 points)
Top Ten: Limited Reining Freestyle Mare - ASWCHA 1st Mare Classic ($1,000 + 10 points)
Top Ten: Junior Working Cow Horse @ ASSHA Malpensa Cavalli 2010 (2 points)
Top Ten: Junior Level Reining @ ASSHA Region IV Experience 2010 (2 points)
Top Ten: Junior Calf Roping @ ASSHA Region IV Experience 2010 (2 points)
Top Ten: Junior Working Cow Horse @ ASSHA Region IV Experience 2010 (2 points)
Top Ten: Junior Limited Reining @ ASApHC Marchend Western Event [$1,000 + 10 pts]
Top Ten: Junior Open Cutting @ ASApHC Marchend Western Event [$1,000 + 10 pts]
Top Ten: Limited Cutting Class @ ASApHC Marchend Western Event [$1,000 + 10 pts]
Top Ten: Junior Open Calf Roping @ ASApHC Marchend Western Event [$1,000 + 10 pts]
Top Ten: Limited Calf Roping @ ASApHC Marchend Western Event [$1,000 + 10 pts]
Top Ten: Junior Open Reining @ ASApHC Ford Western Event [$1,000 + 10 pts]
Top Ten: Junior Open Cutting @ ASApHC Ford Western Event [$1,000 + 10 pts]
Top Ten: Limited Cutting @ ASApHC Ford Western Event [$1,000 + 10 pts]
Top Ten: Junior Open Calf Roping @ ASApHC Ford Western Event [$1,000 + 10 pts]
Top Ten: Limited Calf Roping @ ASApHC Ford Western Event [$1,000 + 10 pts]
Top Ten: Junior Limited Reining @ ASApHC Canadian Chevrolet series 1 [$1,000 + 10 pts]
Top Ten: Limited Cutting @ ASApHC Canadian Chevrolet series 1 [$1,000 + 10 pts]
Top Ten: Junior Open Reined Cow Horse @ ASApHC Canadian Chevrolet series 1 [$1,000 + 10 pts]
Top Ten: Limited Reined Cow Horse @ ASApHC Canadian Chevrolet series 1 [$1,000 + 10 pts]
Top Ten: Limited Calf Roping @ ASApHC Canadian Chevrolet series 1 [$1,000 + 10 pts]
Top Ten: Junior Limited Reining @ ASApHC Canadian Chevrolet Series, Show 2 [$1,000 + 10 pts]
Top Ten: Limited Cutting @ ASApHC Canadian Chevrolet Series, Show 2 [$1,000 + 10 pts]
Top Ten: Junior Open Reined Cow Horse @ ASApHC Canadian Chevrolet Series, Show 2 [$1,000 + 10 pts]
Top Ten: Limited Reined Cow Horse @ ASApHC Canadian Chevrolet Series, Show 2 [$1,000 + 10 pts]
Top Ten: Junior Open Calf Roping @ ASApHC Canadian Chevrolet Series, Show 2 [$1,000 + 10 pts]
Top Ten: Junior Open Reining @ ASApHC Canadian Chevrolet Series Three [$1,000 + 10 pts]
Top Ten: Junior Limited Reining @ ASApHC Canadian Chevrolet Series Three [$1,000 + 10 pts]
Top Ten: Junior Open Cutting @ ASApHC Canadian Chevrolet Series Three [$1,000 + 10 pts]
Top Ten: Limited Reined Cow Horse @ ASApHC Canadian Chevrolet Series Three [$1,000 + 10 pts]
Top Ten: Junior Open Reining @ ASApHC Earth Day Series, Show 1 [$1,000 + 10 pts]
Top Ten: Junior Limited Reining @ ASApHC Earth Day Series, Show 1 [$1,000 + 10 pts]
Top Ten: Junior Open Cutting @ ASApHC Earth Day Series, Show 1 [$1,000 + 10 pts]
Top Ten: Junior Limited Reining @ ASApHC Earth Day Series, Show Two [$1,000 + 10 pts]
Top Ten: Junior Open Cutting @ ASApHC Earth Day Series, Show Two [$1,000 + 10 pts]
Top Ten: Junior Open Reined Cow Horse @ ASApHC Earth Day Series, Show Two [$1,000 + 10 pts]
Top Ten: Junior Open Calf Roping @ ASApHC Earth Day Series, Show Two [$1,000 + 10 pts]
Top Ten: Junior Limited Reining @ ASApHC Earth Day Series, Show 3 [$1,000 + 10 pts]
Top Ten: Junior Open Reined Cow Horse @ ASApHC Earth Day Series, Show 3 [$1,000 + 10 pts]
Top Ten: Junior Open Calf Roping @ ASApHC Earth Day Series, Show 3 [$1,000 + 10 pts]
Top Ten: Limited Calf Roping @ ASApHC Earth Day Series, Show 3 [$1,000 + 10 pts]
Top Ten: Limited Reining Class @ ASApHC Mother's Day Event 2010 [$1,000 + 10 pts]
Top Ten: Junior Open Cutting Class @ ASApHC Mother's Day Event 2010 [$1,000 + 10 pts]
Top Ten: Limited Cutting Class @ ASApHC Mother's Day Event 2010 [$1,000 + 10 pts]
Top Ten: Junior Open Reined Cow Horse @ ASApHC Mother's Day Event 2010 [$1,000 + 10 pts]
Top Ten: Limited Reined Cow Horse @ ASApHC Mother's Day Event 2010 [$1,000 + 10 pts]
Top Ten: Limited Calf Roping @ ASApHC Mother's Day Event 2010 [$1,000 + 10 pts]
Top Ten: Mare Roping Class @ ASApHC Enmax Classic June 2010 ($1,000 + 10 pts)
Top Ten: Junior Open Cutting Class @ ASApHC June Jitterbug Western Event ($1,000 + 10 pts)
Top Ten: Junior Open Calf Roping @ ASApHC June Jitterbug Western Event ($1,000 + 10 pts)
Top Ten: Junior Mare Reining Class @ RCHA April 2010 Northeast Regional Classic (5 pts + $1,000)
Top Ten: Junior Mare Limited Reining @ RCHA April 2010 Northeast Regional Classic (5 pts + $1,000)
Top Ten: Junior Mare Novice Cutting @ RCHA April 2010 Northeast Regional Classic (5 pts + $1,000)
Top Ten: Junior Mare Limited Reining @ RCHA April 2010 Hamilton Investments Classic (5 pts + $1,000)
Top Ten: Junior Mare Novice Cutting @ RCHA April 2010 Hamilton Investments Classic (5 pts + $1,000)
Top Ten: Junior Mare Reining @ RCHA April 2010 Essex County Classic (5 pts + $1,000)
Top Ten: Open Reining @ RCHA April 2010 Essex County Classic (5 pts + $1,000)
Top Ten: Junior Mare Cutting @ RCHA April 2010 Essex County Classic (5 pts + $1,000)
Top Ten: Junior Mare Novice Cutting @ RCHA April 2010 Essex County Classic (5 pts + $1,000)
Top Ten: Junior Mare Reining Class @ RCHA May 2010 Mason Dixie Classic (5 pts + $1,000)
2010 ASWCHA October Classic Junior Limited WCH TOP TEN 10 pts $1,000
2010 ASWCHA Madrid Classic Junior Limited Reining TOP TEN 10 pts $1,000
2010 ASWCHA Madrid Classic Junior Open Cutting TOP TEN 10 pts $1,000
2010 ASWCHA Madrid Classic Junior Limited Roping TOP TEN 10 pts $1,000
2010 ASWCHA Madrid Classic Junior Open Reined Cow Horse TOP TEN 10 pts $1,000
2010 ASWCHA Madrid Classic Junior Open Reined Cow Horse Mare TOP TEN 10 pts $1,000
2010 ASWCHA Madrid Classic Junior Limited Reined Cow Horse TOP TEN 10 pts $1,000
2010 ASApHC October Western Bonanza Junior Open Cutting TOP TEN 10pts $1,000
2010 ASApHC October Western Bonanza Junior Open Reined Cow Horse TOP TEN 10pts $1,000
2010 ASApHC October Western Bonanza Limited Reined Cow Horse TOP TEN 10pts $1,000
2010 ASApHC October Western Bonanza Junior Open Calf Roping TOP TEN 10pts $1,000
2010 ASApHC Rose Time Annual Memorial Junior Open Cutting TOP TEN 20pts $2,000
2010 ASApHC Rose Time Annual Memorial Limited Cutting TOP TEN 20pts $2,000
2010 ASApHC Rose Time Annual Memorial Junior Open Reined Cow Horse TOP TEN 20pts $2,000
2010 ASApHC Rose Time Annual Memorial Junior Open Calf Roping TOP TEN 20pts $2,000
2010 ASApHC 2010 Prince Plaudit Annual Memorial Junior Open Reining TOP TEN 20pts $2,000
2010 ASApHC 2010 Prince Plaudit Annual Memorial Limited Reined Cow Horse TOP TEN 20pts $2,000
2010 ASApHC 2010 Prince Plaudit Annual Memorial Junior Open Calf Roping TOP TEN 20pts $2,000
2010 ASApHC International Year-End Event Junior Open Cutting TOP TEN 20pts $2,000
2010 ASApHC International Year-End Event Limited Cutting TOP TEN 20pts $2,000
2010 ASApHC International Year-End Event Limited Reined Cow Horse TOP TEN 20pts $2,000
2010 ASApHC International Year-End Event Limited Calf Roping TOP TEN 20pts $2,000
2011 ASApHC Quarterly Invitational SME Freestyle Reining TOP TEN 20pts $2,000
2011 ASApHC Quarterly Invitational SME Junior Cutting TOP TEN 20pts $2,000
2011 ASApHC Brand New Year Gala Junior Reining TOP TEN 10pts $1,000
2011 ASApHC Brand New Year Gala Junior Cutting TOP TEN 10pts $1,000
2011 ASApHC Brand New Year Gala Junior Reined Cow Horse TOP TEN 10pts $1,000
2011 ASApHC Brand New Year Gala Junior Calf Roping TOP TEN 10pts $1,000
2011 ASApHC Catherby Competition Junior Reining TOP TEN 10pts $1,000
2011 ASApHC Catherby Competition Junior Cutting TOP TEN 10pts $1,000
2011 ASApHC SME Bright Eyes Brother Annual Memorial Junior Reining TOP TEN 20pts $2,000
2011 ASApHC Klein Masters Junior Calf Roping TOP TEN 10pts $1,000
2011 ASApHC Absarokee Sunset Annual Memorial SME Junior Reining TOP TEN 20pts $2,000
2011 ASApHC Edmonton Spotlight Junior Reining TOP TEN 10pts $1,000
2011 ASApHC Edmonton Spotlight Junior Cutting TOP TEN 10pts $1,000
2011 ASApHC Edmonton Spotlight Junior Reined Cow Horse TOP TEN 10pts $1,000
2011 ASApHC Edmonton Spotlight Junior Calf Roping TOP TEN 10pts $1,000
2011 ASApHC Ambry Arena Junior Cutting TOP TEN 10pts $1,000
2011 ASApHC Ambry Arena Junior Calf Roping TOP TEN 10pts $1,000
6th - Showmanship Junior [out of 30] ASWCHA February In-Hand Show I [$1,000 + 10 pts]
7th - Lunge Line Junior Horse [out of 30] ASWCHA February In-Hand Show I [$1,000 + 10 pts]
ASPRA
ASPRA points: 160pts
2010 ASPRA Grand Opening Arena Meltdown Junior Team Roping TOP TEN 10pts $1,000
2010 ASPRA November Classic Junior Calf Roping TOP TEN 10pts $1,000
2010 ASPRA November Classic Junior Team Roping TOP TEN 10pts $1,000
2010 ASPRA November Classic Grand Champion of Show $50,000 + 50 pts
2010 ASPRA Pre-Christmas 2010 Event Junior Calf Roping TOP TEN 10pts $1,000
2010 ASPRA Pre-Christmas 2010 Event Junior Team Roping TOP TEN 10pts $1,000
2010 ASPRA Pre-Christmas 2010 Event Reserve Champion of Show $40,000 + 40 pts
2010 ASPRA December 2010 Chevrolet Classic Junior Calf Roping TOP TEN 10pts $1,000
2010 ASPRA December 2010 Chevrolet Classic Junior Team Roping TOP TEN 10pts $1,000