Post by MilliM on Oct 4, 2010 9:53:13 GMT 2
Sim Game Horse - Virtuaalihevonen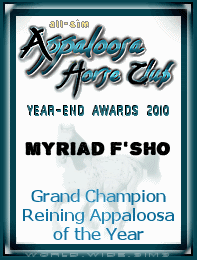 Chestnut Leopard Appaloosa Stallion for Working Cow Horse: Reining, Roping, Cutting
GCh./GCh. Myriad F'Sho "Hardy"
Copyrights
A Hawkins Digital
Sired by
HoF./SCh. Myriad Eleven
out of
SCh./Ch. Sho My Zipper
DOB: April 6 2006
Height/Säkä: 16.1hh
Extended pedigree
Sired by
HoF./SCh. Myriad Eleven
Nature's Masterpiece (The Masterpiece x Natural Beauty)
Calico Digit (Going Calico x Numbers Don't Matter)
Foales out of
SCh./Ch. Sho My Zipper
Sho Stopper (Stop Doc x See These Heels)
Zipped Addiction (Absarokee Zipper x Egypt Maddon)
Offspring
Appaloosa colt
Juliard VR
foaled out of
SCh./GCh. Justifiable Maiden
Previous owner tells about him...
This is a very lively and intelligent young stallion, and he is impressive in so many ways
that it is difficult to know where to begin describing him. His pedigree is absolutely to
die for with so many champions in the all-sim world as well as in real life. His build is
strong and big all over, with a supreme overall conformation that simply screams performance
competitor. He is a dream to ride with big, swinging gaits, an easy & very natural lope, and
the agililty, despite his size, to compete in almost any event. He was started in Reining &
Cutting but this boy could really do anything eventually.
CONDITIONS OF SALE
> Kalla Hawk reserves buy-back rights and/or first refusal for life.
> If horse is sold, my conditions will remain effective to the new owner also.
> If this horse is inactive for a substantial length of time, Kalla will reclaim.
> Kalla Hawk requires URLs for any foals this horse may have in future.
> Horse will compete ONLY in the classes as listed, and/or In-Hand.
> If retired to breeding status, horses will still show in occasional Halter classes.
> If remaining in all-sim, horse MUST be actively shown on WWS & SAI - at least.
> Horse may be imported into a sim horse game, but Kalla MUST be notified.
> Horse may be aged to 3 years younger than sire & dam. Other stats may not change.
> Any new photographs or photo changes MUST be approved by Kalla Hawk. (New picture approved by Kalla)
> Appaloosas MUST be actively shown in the All-Sim Appaloosa Horse Club.
> Unless otherwise noted, the horse MUST be actively shown in the All-Sim Working Cow Horse Association.
> Conditions of Sale MUST be posted on the horse's new page, or horse will be reclaimed.
COMPLETE SHOW RECORD
Lifetime Earnings:
$193,000
All-Sim Appaloosa Horse Club Points:
1300
All-Sim Working Cow Horse Association Points:
350
All-Sim Stock Horse Association Points:
27
Other Barn & Non-Club Points:
316
All-Sim Points Total:
1,023
Overall Show Titles:
Grand Champion Non-Pro Horse of Show: ASWCHA February Stallion Spotlight [$50,000 + 50 pts]
2010 ASApHC October Western Bonanza Grand Champion of Show $50,000 + 50 pts
2010 ASApHC Grand Champion Reining Appaloosa of the Year 60 pts + $60,000
Qualifications
2010 ASApHC International Year-End Qualifiers 2 Limited Reining TOP THREE 10pts $1,000
2010 ASApHC International Year-End Qualifiers 2 Junior Open Reined Cow Horse TOP THREE 10pts $1,000
2010 ASApHC International Year-End Qualifiers 2 Junior Open Calf Roping TOP THREE 10pts $1,000
2010 ASApHC International Year-End Qualifiers 2 Limited Calf Roping TOP THREE 10pts $1,000
2010 ASApHC 2010 International Year-End Qualifiers 3 Limited Cutting TOP THREE 10pts $1,000
2010 ASApHC 2010 International Year-End Qualifiers 3 Limited Reined Cow Horse TOP THREE 10pts $1,000
Divisional Show Titles:
Champion - Junior Calf Roping - Teal Roping Show, Apple Hill Farms ($5,000 + 10 pts)
Champion - Jr Stallion Reining – Gold Reining Show, Apple Hill Farms ($5,000 + 10 pts)
Reserve Champion - Open Breakaway Roping - Teal Roping Show, Apple Hill Farms ($2,500 + 8 pts)
Reserve Champion - Open Foal - Grand Opening Halter Event, Apple Hill Farms ($3,500 + 13 pts)
Reserve Champion - Appaloosa Markings - Grand Opening Halter Event, AHF ($3,500 + 13 pts)
Reserve Champion: Futurity Cutting Class @ ASSHA Region II Experience 2010 (5 pts)
Reserve Champion: Cutting Prospect @ Grand Opening English, Apple Hill Farms ($2,500 + 8 pts)
2010 ASApHC October Western Bonanza Junior Limited Reining RESERVE CHAMPION 20pts $20,000
2010 ASApHC October Western Bonanza Limited Calf Roping CHAMPION 20pts $20,000
2010 ASApHC 2010 Prince Plaudit Annual Memorial Limited Reining CHAMPION 20pts $20,000
2010 ASApHC 2010 Prince Plaudit Annual Memorial Junior Open Calf Roping CHAMPION 20pts $20,000
2010 ASApHC 2010 Prince Plaudit Annual Memorial Limited Calf Roping RESERVE CHAMPION 20pts $20,000
2010 ASApHC International Year-End Event Limited Calf Roping CHAMPION 30pts $3,000
2011 ASApHC SME Bright Eyes Brother Annual Memorial Junior Reined Cow Horse CHAMPION 20pts $20,000
2011 ASApHC Jacksonville Classic Junior Cutting CHAMPION 20pts $20,000
2011 ASApHC Absarokee Sunset Annual Memorial SME Junior Reining RESERVE CHAMPION 20pts $20,000
2011 ASApHC Ambry Arena Junior Cutting CHAMPION 20pts $20,000
Top Tens:
Top Ten: Open Bridle WCH Futurity ~ ASWCHA First Working Classic [$1,000 + 10 pts]
Top Ten: Open Snaffle WCH Futurity ~ ASWCHA First Working Classic [$1,000 + 10 pts]
Top Ten: Open Hackamore WCH Futurity ~ ASWCHA First Working Classic [$1,000 + 10 pts]
Top Ten: Two Rein WCH Colt/Gelding ~ ASWCHA First Working Classic [$1,000 + 10 pts]
Top Ten: Futurity Reining Suitability - ASWCHA Grand Opening Halter Classic [$1,000 + 10 pts]
Top Ten: Futurity Roping Suitability - ASWCHA Grand Opening Halter Classic [$1,000 + 10 pts]
Top Ten: Futurity WCH Colt Suitability - ASWCHA Grand Opening Halter Classic [$1,000 + 10 pts]
Top Ten: Open Bridle WCH Futurity - ASWCHA January Spec Event [$1,000 + 10 pts]
Top Ten: Two Rein WCH Futurity - ASWCHA January Spec Event [$1,000 + 10 pts]
Top Ten: Two Year Old at Halter - WWS Jan2010 Age Halter Event [$10,000 + 10 pts]
Top Ten: Calf Roping Futurity (age 2-3 y/o) WWS Roping Mastership #1 [$10,000 + 10 pts]
Top Ten: Freestyle Roping Futurity (2-3 y/o) WWS Roping Mastership #1 [$10,000 + 10 pts]
Top Ten: Speed Roping Futurity (age 2-3 y/o) WWS Roping Mastership #1 [$10,000 + 10 pts]
Top Ten: Cutting Futurity - WWS C/R/R Series, show 4, January 2010 ($1,000 + 10 points)
Top Ten: Futurity Reining - WWS C/R/R Series, show 4, January 2010 ($1,000 + 10 points)
Top Ten: Roping Futurity - WWS C/R/R Series, show 4, January 2010 ($1,000 + 10 pts)
Top Ten: Roping Open - WWS C/R/R Series, show 4, January 2010 ($1,000 + 10 pts)
Top Ten: Three Year Old at Halter - WWS Jan2010 Supreme Halter Event [$1,000 + 10 pts]
Top Ten: Reg. Reining Futurity (age 2-3 y/o) WWS Reining Mastership #2 [$1,000 + 10 pts]
Top Ten: Timed Freestyle Reining Futurity (2-3 y/o) WWS Reining Mastership #2 [$1,000 + 10 pts]
Top Ten: Open Snaffle WCH Futurity - ASWCHA Second Working Classic [$1,000 + 10 pts]
Top Ten: Two Rein WCH Colt/Gelding - ASWCHA Second Working Classic [$1,000 + 10 pts]
Top Ten: 3 Year Old at Halter - ASWCHA January In-Hand Show [$1,000 + 10 pts]
Top Ten: Futurity Horse at Liberty ~ ASWCHA January In-Hand Show [$1,000 + 10 pts]
Top Ten: Open Bridle WCH Colt - ASWCHA January Stallion Event [$1,000 + 10 pts]
Top Ten: Open Snaffle WCH Colt - ASWCHA January Stallion Event [$1,000 + 10 pts]
Top Ten: Open Hackamore WCH Colt - ASWCHA January Stallion Event [$1,000 + 10 pts]
Top Ten: Combination Roping Colt - ASWCHA January Stallion Event [$1,000 + 10 pts]
Top Ten: Reining Freestyle Colt - ASWCHA January Stallion Event [$1,000 + 10 pts]
Top Ten: Open Combination Reining Colt - ASWCHA January Stallion Event [$1,000 + 10 pts]
Top Ten: Two Rein Working Cow Horse Colt - ASWCHA Third Working Classic [$1k + 10 pts]
Top Ten: Futurity Horse at Liberty - Hawk Ridge Anson International [$1,000 + 10 pts]
Top Ten: Futurity Lunge Line Division - Hawk Ridge Anson International [$1,000 + 10 pts]
Top Ten: Walk/Jog Showmanship Futurity - Hawk Ridge Anson International [$1,000 + 10 pts]
Top Ten: Open Walk/Jog Showmanship - Hawk Ridge Anson International [$1,000 + 10 pts]
Top Ten: Calf Roping Futurity Class - WWS Roping Mastership #2 [$1,000 + 10 pts]
Top Ten: Freestyle Roping Futurity - WWS Roping Mastership #2 [$1,000 + 10 pts]
Top Ten: Speed Roping Futurity - WWS Roping Mastership #2 [$1,000 + 10 pts]
Top Ten: Leopard Pattern at Halter - Hawk Ridge Halter Ring One [$1,000 + 10 pts]
Top Ten: Open Bridle WCH Colt ~ ASWCHA February Stallion Spotlight [$1,000 + 10 pts]
Top Ten: Open Snaffle WCH Colt ~ ASWCHA February Stallion Spotlight [$1,000 + 10 pts]
Top Ten: Open Hackamore WCH Colt ~ ASWCHA February Stallion Spotlight [$1,000 + 10 pts]
Top Ten: Combination Roping Colt ~ ASWCHA February Stallion Spotlight [$1,000 + 10 pts]
Top Ten: Reining Freestyle Colt ~ ASWCHA February Stallion Spotlight [$1,000 + 10 pts]
Top Ten: Open Combination Reining Colt ~ ASWCHA February Stallion Spotlight [$1,000 + 10 pts]
Top Ten: Futurity Reining (2-3y/o) ASApHC January 2010 R/C Classic {$1,000 + 10 pts}
Top Ten: Open Reining (all ages) ASApHC January 2010 R/C Classic {$1,000 + 10 pts}
Top Ten: Leopard Pattern at Halter - ASApHC Aubrie International [$1,000 + 10 pts]
Top Ten: Open Pattern at Halter - ASApHC Aubrie International [$1,000 + 10 pts]
Top Ten: Futurity Horse at Liberty - ASApHC Aubrie International [$1,000 + 10 pts]
Top Ten: Lunge Line Division, Futurity - ASApHC Aubrie International [$1,000 + 10 pts]
Top Ten: Walk/Jog Showmanship Futurity - ASApHC Aubrie International [$1,000 + 10 pts]
Top Ten: Three Year Old at Halter - ASApHC Anson International [$1,000 + 10 pts]
Top Ten: Leopard Pattern at Halter - ASApHC Anson International [$1,000 + 10 pts]
Top Ten: Open Pattern at Halter - ASApHC Anson International [$1,000 + 10 pts]
Top Ten: Reining Futurity Class - ASApHC Feb2010 WCH Classic [$1,000 + 10 pts]
Top Ten: Cutting Futurity Class - ASApHC Feb2010 WCH Classic [$1,000 + 10 pts]
Top Ten: Futurity Roping Class - ASApHC Feb2010 WCH Classic [$1,000 + 10 pts]
Top Ten: Open Roping Class - ASApHC Feb2010 WCH Classic [$1,000 + 10 pts]
Top Ten: Futurity WCH Class - ASApHC Feb2010 WCH Classic [$1,000 + 10 pts]
Top Ten: WCH Open Class - ASApHC Feb2010 WCH Classic [$1,000 + 10 pts]
Top Ten: Cutting Prospect - Yellow Western Prospect Show, Apple Hill Farms (4 pts)
Top Ten: Reining Prospect - Yellow Western Prospect Show, Apple Hill Farms (4 pts)
Top Ten: Stallion Halter Prospect - Redfoal Halter Show, Apple Hill Farms (4 pts)
Top Ten: Open Halter Prospect - Redfoal Halter Show, Apple Hill Farms (4 pts)
Top Ten: Open Foal Halter - Redfoal Halter Show, Apple Hill Farms (4 pts)
Top Ten: Two Rein WCH Colt @ ASWCHA Fourth Working Classic [$1,000 + 10 pts]
Top Ten: Leopard Pattern at Halter ~ ASApHC Avery Belle International [$1,000 + 10 pts]
Top Ten: Futurity Horse at Liberty ~ ASApHC Avery Belle International [$1,000 + 10 pts]
Top Ten: Walk/Jog Showmanship Futurity ~ ASApHC Avery Belle International [$1,000 + 10 pts]
Top Ten: Futurity Timed Roping - ASApHC Feb2010 Roping Spotlight [$1,000 + 10 pts]
Top Ten: Futurity Cutting Class - ASApHC Feb2010 Roping Spotlight [$1,000 + 10 pts]
Top Ten: Futurity Calf Roping Class - ASApHC Feb2010 Roping Spotlight [$1,000 + 10 pts]
Top Ten: Futurity Breakaway Roping - ASApHC Feb2010 Roping Spotlight [$1,000 + 10 pts]
Top Ten: Three Year Old at Halter | ASApHC Enya International | $1,000 + 10 pts
Top Ten: Open Pattern at Halter | ASApHC Enya International | $1,000 + 10 pts
Top Ten: Lunge Line Open| ASApHC Enya International | $1,000 + 10 pts
Top Ten: Open Team Roping - Teal Roping Show, Apple Hill Farms, Feb/2010 (4 pts)
Top Ten: Appaloosa Markings Halter - Bluecoat Halter Show, Apple Hill Farms (4 pts)
Top Ten: Halter by Breed; Appaloosa - Hawk Ridge Halter Ring Two [$1,000 + 10 pts]
Top Ten: Halter by Pattern; Leopard - Hawk Ridge Halter Ring Two [$1,000 + 10 pts]
Top Ten: Timed Freestyle Reining Futurity - WWS Reining Mastership #3 [$1,000 + 10 pts]
Top Ten: Musical Freestyle Reining Futurity - WWS Reining Mastership #3 [$1,000 + 10 pts]
Top Ten: Futurity Calf Roping - ASApHC Feb2010 Roping Spotlight II [$1,000 + 10 pts]
Top Ten: Futurity Cutting - ASApHC Feb2010 Roping Spotlight II [$1,000 + 10 pts]
Top Ten: Junior Timed Roping - ASApHC Feb2010 Roping Spotlight II [$1,000 + 10 pts]
Top Ten: Futurity Breakaway Roping - ASApHC Feb2010 Roping Spotlight II [$1,000 + 10 pts]
Top Ten: Junior Reining Class - ASApHC February 2010 R/C Classic ($1,000 + 10pts)
Top Ten: Junior Freestyle Reining - ASApHC February 2010 R/C Classic ($1,000 + 10pts)
Top Ten: Junior Cutting (4-7y/o) ASApHC February 2010 R/C Classic ($1,000 + 10pts)
Top Ten: Futurity Calf Roping Class @ ASSHA Breeders Show February 2010 (2 pts)
Top Ten: Futurity Breakaway Roping Class @ ASSHA Breeders Show February 2010 (2 pts)
Top Ten: Futurity Colt at Halter @ ASSHA European Championships 2010 (2 pts)
Top Ten: Futurity Reining Class @ ASSHA European Championships 2010 (2 pts)
Top Ten: Futurity Cutting Class @ ASSHA European Championships 2010 (2 pts)
Top Ten: Futurity Calf Roping @ ASSHA European Championships 2010 (2 pts)
Top Ten: Futurity Breakaway Roping @ ASSHA European Championships 2010 (2 pts)
Top Ten: Futurity Colt at Halter @ ASSHA Florida State Fair 2010 (2 pts)
Top Ten: Futurity Colt at Halter @ ASSHA Region II Experience 2010 (2 pts)
Top Ten: Futurity Reining Class @ ASSHA Region II Experience 2010 (2 pts)
Top Ten: Junior Working Cow Horse @ ASSHA Canadian Nationals 2010 (2 pts)
2010 ASApHC October Western Bonanza Limited Cutting TOP TEN 10pts $1,000
2010 ASApHC October Western Bonanza Limited Reined Cow Horse TOP TEN 10pts $1,000
2010 ASApHC October Western Bonanza Junior Open Calf Roping TOP TEN 10pts $1,000
2010 ASApHC Rose Time Annual Memorial Junior Open Reining TOP TEN 20pts $2,000
2010 ASApHC Rose Time Annual Memorial Junior Open Reined Cow Horse TOP TEN 20pts $2,000
2010 ASApHC Rose Time Annual Memorial Limited Calf Roping TOP TEN 20pts $2,000
2010 ASApHC 2010 Prince Plaudit Annual Memorial Junior Open Reining TOP TEN 20pts $2,000
2010 ASApHC 2010 Prince Plaudit Annual Memorial Junior Open Cutting TOP TEN 20pts $2,000
2010 ASApHC 2010 Prince Plaudit Annual Memorial Limited Cutting TOP TEN 20pts $2,000
2010 ASApHC 2010 Prince Plaudit Annual Memorial Junior Open Reined Cow Horse TOP TEN 20pts $2,000
2010 ASApHC International Year-End Event Limited Reining TOP TEN 20pts $2,000
2010 ASApHC International Year-End Event Limited Cutting TOP TEN 20pts $2,000
2010 ASApHC International Year-End Event Junior Open Reined Cow Horse TOP TEN 20pts $2,000
2010 ASApHC International Year-End Event Limited Reined Cow Horse TOP TEN 20pts $2,000
2010 ASApHC International Year-End Event Junior Open Calf Roping TOP TEN 20pts $2,000
2011 ASApHC Brand New Year Gala Junior Cutting TOP TEN 10pts $1,000
2011 ASApHC Brand New Year Gala Junior Calf Roping TOP TEN 10pts $1,000
2011 ASApHC Catherby Competition Junior Reining TOP TEN 10pts $1,000
2011 ASApHC Catherby Competition Junior Reined Cow Horse TOP TEN 10pts $1,000
2011 ASApHC Catherby Competition Junior Calf Roping TOP TEN 10pts $1,000
2011 ASApHC SME Bright Eyes Brother Annual Memorial Junior Reining TOP TEN 20pts $2,000
2011 ASApHC SME Bright Eyes Brother Annual Memorial Junior Calf Roping TOP TEN 20pts $2,000
2011 ASApHC Jacksonville Classic Junior Reined Cow Horse TOP TEN 10pts $1,000
2011 ASApHC Jacksonville Classic Junior Calf Roping TOP TEN 10pts $1,000
2011 ASApHC Klein Masters Junior Reining TOP TEN 10pts $1,000
2011 ASApHC Klein Masters Junior Cutting TOP TEN 10pts $1,000
2011 ASApHC Klein Masters Junior Reined Cow Horse TOP TEN 10pts $1,000
2011 ASApHC Klein Masters Junior Calf Roping TOP TEN 10pts $1,000
2011 ASApHC Absarokee Sunset Annual Memorial SME Junior Calf Roping TOP TEN 20pts $2,000
2011 ASApHC Edmonton Spotlight Junior Calf Roping TOP TEN 10pts $1,000
2011 ASApHC Ambry Arena Junior Reining TOP TEN 10pts $1,000
2011 ASApHC Ambry Arena Freestyle Reining TOP TEN 10pts $1,000
2011 ASApHC Ambry Arena Junior Reined Cow Horse TOP TEN 10pts $1,000
2011 ASApHC Ambry Arena Junior Calf Roping TOP TEN 10pts $1,000
Ribbons:
2nd - Three Year Old at Halter - ASWCHA February In-Hand Show I [$1,000 + 10 pts]
3rd - Showmanship Open [out of 95] ASWCHA February In-Hand Show I [$1,000 + 10 pts]
11th - Lunge Line Futurity Horse [out of 23] ASWCHA February In-Hand Show I [$1,000 + 10 pts]
ASPRA
2010 ASPRA Grand Opening Arena Meltdown Junior Calf Roping TOP TEN 10pts $1,000
2010 ASPRA Pre-Christmas 2010 Event Junior Calf Roping RESERVE CHAMPION 20pts $20,000
2011 ASPRA New Year Classic Junior Stallion Calf Roping TOP TEN 10pts $1,000
2011 ASPRA Gracelands Roping Gala Junior Stallion Calf Roping TOP TEN 10pts $1,000
2011 ASPRA Gracelands Roping Gala Junior Open Limited Calf Roping TOP TEN 10pts $1,000