Post by MilliM on Nov 5, 2010 13:19:54 GMT 2
Sim Game Horse - Virtuaalihevonen
Bay Finnish Warmblood mare for Eventing
Xsara VR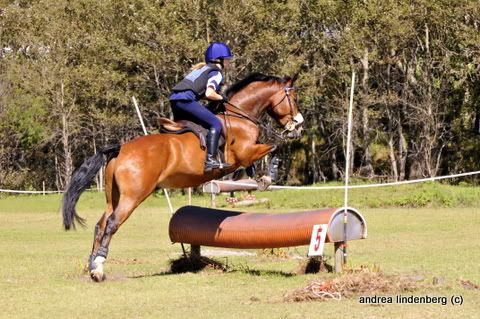 Copyrights:
Andrea Lindenberg
, under CC
Sired by
KWB Alarming
(YLA 2) out of Agave's Part of Unknow Destiny
DOB: 17/05/2006
Breeder: Milli M, Vista Ridge
Extended Pedigree
Sired by
KWB Alarming
(YLA 2)
VIR MVA Ch Greymask's Almaz
, KTK-II, YLA1, KRJ-II (GWB Lancerto x Langwelle Luna
S.U Replica, KRJ-I, YLA 3 (Jugendstern x VIR MVA Ch Mäntysuon Thilde, KTK-II, KRJ-III, ERJ-III)
Foaled out of
Agave's Part of Unknow Destiny
Legend of Camaro (Camcarot x Lizzy's Pride)
Ch Agave's Why Worry, KTK-III (Ch HG's Finical, KTK-III x Agave's Adamant, KTK-II)
Offspring / Jälkeläiset
FWB stallion
MatchBox VR
LUONNEHDINTA
Sara on yksi kasvateistani, joka on suvultaan ylpeyden aihe. Pidin tamman molemmista vanhemmista hyvin paljon, vaikkakaan sen emä ei omistuksessani ole kovinkaan paljoa kisannut. Isä on kuitenkin ollut ykköshevosiani sekä koulukentillä että muissakin lajeissa. Isä on kuitenkin vahvasti koulupainotteinen. Sarasta kuitenkin odotetaan kenttäpainotteista ratsua, mutta painotus on hyvin pitkälti kouluratsastuksessa sen geenien vuoksi.
Sara on luonteeltaan hyvin rauhallinen ja soveltuu senkin vuoksi kenttäratsastukseen erittäin hyvin. se ei hätäile varsinkaan maastoesteradalla. Tamma ei koskaan uuvuta itseään loppuun saakka, mutta toisaalta tammalta puuttuu myös kokonaan voitontahto, jota kaipaan hevoselta. Kuitenkin tamman taidot voittavat tämän puutteen. Hoitaa tamma on helppo ja soveltuu myös kokemattomillekin hoitajille, vaikkakin toivoisin hoitajan olevan kokeneempi, jotta voisin luottaa tämän harteille osan valmennuksesta.
Finnish SIM Eventing Association - Kenttäratsastusjaos, KeRJ
18.11.2006 KeRJ Onnela ko helppo B, re 100 cm, me 90 cm 36/48
12.11.2006 KeRJ Kaviopolun Ratsastajat ko he B/re 100cm/me 90cm 14/35
22.11.2006 KeRJ Kaurisrannan Ratsastajat Ko Vaativa B, Re 120cm, Me 115cm 5/43
28.11.2006 KeRJ Nelda HeC+90cm+70cm 4/30
8.12.2006 KeRJ RaZoRa Va A/re 125cm/me 120cm 10/15
15.12.2006 KeRJ Honkaharju ko he A/re 110cm/me 100cm 28/50
16.12.2006 KeRJ Virtuaalitalli Nerian Helppo A, re 110 cm, me 100 cm 48/72
17.12.2006 Kisakeskus Kipakka ko He A / re 100cm / me 90cm 9/14
19.12.2006 KeRJ Le Château d'Escail ko he B/re 100cm/me 27/42
20.12.2006 KeRJ Silfran Ponyriders ko he B / re 80cm / me 75cm 20/29
27.12.2006 KK Pakokauhu ko he C / re 70cm / me 60cm 3/14
27.12.2006 KK Pakokauhu ko he B / re 100cm / me 90cm 12/13
28.12.2006 KK Pakokauhu ko he C / re 70cm / me 60cm 8/9
28.12.2006 KK Pakokauhu ko he B / re 100cm / me 90cm 2/11
29.12.2006 KK Pakokauhu ko he C / re 50cm / me 40cm 6/16
29.12.2006 KK Pakokauhu ko he B / re 100cm / me 90cm 3/11
30.12.2006 KK Pakokauhu ko he C / re 70cm / me 60cm 9/13
30.12.2006 KK Pakokauhu ko he B / re 100cm / me 90cm 2/15
31.12.2006 KK Pakokauhu ko he C / re 70cm / me 60cm 5/9
31.12.2006 KK Pakokauhu ko he B / re 100cm / me 90cm 2/10
5.1.2007 KeRJ Stallion Hill ko HeB/re 80cm/me 75cm 24/32
10.1.2007 KeRJ Mirraberg Warmbloods Helppo A, re 90 cm, me 80 cm 25/106
16.1.2007 KeRJ Kuulto ko he A / re 110 cm / me 100 cm 4/30
30.1.2007 KeRJ Usvajärven Ratsastajat/Vista Ridge helppo luokka (a-rata) 2/6
21.2.2007 KERJ Southern E Arabs CCI/CIC*, a-rata 7/27
24.2.2007 KERJ Katrin Talli he A / re 120cm / me 115cm 3/29
26.2.2007 KERJ Flyinvalley Stablesin he a/re 115/me 110/ 15km 14/19
28.2.2007 KERJ Dimmalimm ko HeA, re 110cm, me 100cm, a-rata 9/55
15.4.2007 KeRJ Usvajärven Ratsastajat/Vista Ridge pitkä CCI/CIC**** (a-rata, 20km) 4/30
12.6.2007 KERJ Southern E Arabs helppo luokka, b-rata 20/35
24.6.2007 KERJ Peninkulma Tutustumisluokka a-rata 23/39
28.6.2007 KeRJ Usvajärven Ratsastajat/Vista Ridge harrasteluokka (a-rata) 20/30
29.6.2007 KeRJ Usvajärven Ratsastajat/Vista Ridge harrasteluokka (a-rata) 2/3
8.7.2007 KeRJ FSRa CCI/CIC*** 6/14
9.7.2007 KeRJ FSRa CCI/CIC*** 5/14
10.7.2007 KeRJ FSRa CCI/CIC** 10/13
12.7.2007 KeRJ FSRa CCI/CIC*** 1/24
5.8.2007 KeRJ Usvajärven Ratsastajat/Vista Ridge pitkä pitkä CCI/CIC**** (a-rata, 20km) 3/3
2.7.2007 KERJ VMR Pitkä CCI/CIC* (a-rata) 8/30
22.7.2007 KERJ Silfran Ponyridersin Aloittelijaluokka (a-rata) 31/50
24.3.2008 KeRJ Whitebrook he a / re 110 / me 100 26/50
29.3.2008 KeRJ Virtuaalitalli Bratislava CCI/CIC*** 25/36
30.3.2008 KeRJ Virtuaalitalli Bratislava CCI/CIC*** 19/36
10.4.2008 KeRJ Naranja CCI/CIC*, a-rata, he a / re 110 / me 100 1/40
15.4.2008 KeRJ Vista Ridge/USVA pitkä CCI/CIC**** (a-rata, 20km) 1/26
15.4.2008 KeRJ ROWDY CCI/CIC* 27/36
16.4.2008 KeRJ ROWDY CCI/CIC* 18/36
18.4.2008 KeRJ Vaellustalli Suosirri CCI/CIC** 10/34
18.4.2008 KeRJ(P) Kotikolo Tutustumisluokka (S) 5/28
20.4.2008 KeRJ Vista Ridge/USVA pitkä CCI/CIC**** (a-rata, 20km) 11/26
20.4.2008 KeRJ(P) Siitostalli Zeni Harrasteluokka (a-rata) (A) 4/5
21.4.2008 KeRJ(P) Vista Ridge/USVA Tutustumisluokka (S) 1/15
21.4.2008 KeRJ Dakota CCI/CIC** 12/25
21.4.2008 KeRJ(P) RDN Hevoskasvatus Harrasteluokka (a-rata) (A) 1/5
22.4.2008 KeRJ(P) Unhola Helppo luokka (A) 1/12
22.4.2008 KeRJ Whitebrook CCI/CIC**** 3/25
23.4.2008 KeRJ(P) Unhola Tutustumisluokka (A) 8/13
23.4.2008 KeRJ Kaurisrannan Ratsastajat CCI/CIC** 42/58
23.4.2008 KeRJ Kaurisrannan Ratsastajat CCI/CIC**** 29/52
24.4.2008 KeRJ Kaurisrannan Ratsastajat CCI/CIC** 44/55
24.4.2008 KeRJ Kaurisrannan Ratsastajat CCI/CIC**** 44/57
24.4.2008 KeRJ(P) Unhola Tutustumisluokka (A) 8/12
25.4.2008 KeRJ(P) Unhola Tutustumisluokka (A) 9/12
26.4.2008 KeRJ(P) Unhola Tutustumisluokka (A) 9/12
26.4.2008 KeRJ Virtuaalitalli Bratislava CCI/CIC*** 21/36
26.4.2008 KeRJ(P) Aamukasteen kartano Harrasteluokka 9/20
27.4.2008 KeRJ Virtuaalitalli Bratislava CCI/CIC*** 1/36
28.4.2008 KeRJ Virtuaalitalli Bratislava CCI/CIC*** 33/34
29.4.2008 KeRJ Virtuaalitalli Bratislava CCI/CIC*** 35/36
30.4.2008 KeRJ Virtuaalitalli Bratislava CCI/CIC*** 24/35
30.4.2008 KeRJ Vista Ridge/USVA CCI/CIC**** 6/23
8.5.2008 KeRJ(P) Pilna Mera Aloittelijaluokka (S) 3/6
24.5.2008 KeRJ Klown Estate CCI/CIC*** (a-rata) 23/29
25.5.2008 KeRJ Klown Estate CCI/CIC*** (a-rata) 15/30
26.5.2008 KeRJ Klown Estate CCI/CIC*** (a-rata) 11/29
30.5.2008 KeRJ(P) Siittola Zeni Tutustumisluokka (a-rata) (A) 1/9
31.5.2008 KeRJ(P) KaRa Tutustumisluokka (a-rata) (A) 1/4
2.6.2008 KeRJ KaRa CCI/CIC*** (a-rata) 14/23
3.6.2008 KeRJ Rouge Glace CCI/CIC**** (a-rata) 7/37
5.6.2008 KeRJ Kisakeskus Valtikka CCI/CIC**** (a-rata) 27/33
9.6.2008 KeRJ Aurore Vallé CIC/CCI*** 18/20
15.6.2008 KeRJ Moondance CCI/CIC** (b-rata) 7/15
16.6.2008 KeRJ Naranja Sporthorses CCI/CIC*** 6/30
17.6.2008 KeRJ Naranja Sporthorses CCI/CIC*** 26/28
18.6.2008 KeRJ(P) Heijastus harrasteluokka (a-rata) (A) 9/10
18.6.2008 KeRJ Naranja Sporthorses CCI/CIC*** 1/30
19.6.2008 KeRJ Naranja Sporthorses CCI/CIC*** 22/27
9.8.2008 KeRJ(P) Unhola Helppo luokka (A) 8/11
11.8.2008 KeRJ(P) Unhola Helppo luokka (A) 4/11
25.6.2008 KeRJ(P) Siittola Zeni Helppo luokka (b-rata) (A) 16/20
26.6.2008 KeRJ(P) Siittola Zeni Helppo luokka (b-rata) (A) 18/20
27.6.2008 KeRJ(P) Siittola Zeni Helppo luokka (b-rata) 8/20
28.6.2008 KeRJ(P) Siittola Zeni Helppo luokka (b-rata) (A) 15/19
13.8.2008 KeRJ(P) Unhola Helppo luokka (A) 8/8
15.8.2008 KeRJ(P) Unhola Helppo luokka (A) 11/11
17.8.2008 KeRJ(P) Unhola Helppo luokka (A) 10/11
19.8.2008 KeRJ(P) Unhola Helppo luokka (A) 11/11
21.8.2008 KeRJ(P) Unhola Helppo luokka (A) 5/12
6.9.2008 KeRJ Kumpuramäki CCI/CIC*** (a-rata) 9/37
6.9.2008 KeRJ Chestount CCI/CIC* (a-rata) 7/36
6.9.2008 KeRJ CeRi Helppo luokka (a-rata, avoin) 6/29
7.9.2008 KeRJ CeRi Helppo luokka (a-rata, avoin) 21/29
8.9.2008 KeRJ CeRi Helppo luokka (a-rata, avoin) 3/29
9.9.2008 KeRJ ROWDY CCI/CIC* (a-rata) 12/36
9.9.2008 KeRJ CeRi Helppo luokka (a-rata, avoin) 25/29
10.9.2008 KeRJ BelRa CCI/CIC** (a-rata) 1/24
11.9.2008 KeRJ ROWDY CCI/CIC* 15/36
12.9.2008 KeRJ Vinlanti CCI/CIC* (a-rata) 12/25
12.9.2008 KeRJ Tres Beaun CCI/CIC2, a-rata 11/13
13.9.2008 KeRJ Immortelle Park Pitkä CCI/CIC4 23/23
15.9.2008 KeRJ Hämypuro CCI/CIC2 14/43
17.9.2008 KeRJ Polkamo Trakehners CCI/CIC**** (a-rata) 18/22
23.8.2008 KeRJ(P) helppo luokka (A) 13/23
2.10.2008 KeRJ Granehill Warmbloods CCI/CIC** 15/26
KRJ
5.12.2006 KRJ Almaz Int. I+ 39/44 55.565%
5.12.2006 KRJ Almaz Int. II 14/42 61.846%
6.12.2006 KRJ Kaurisrannan Ratsastajat Intermediaire I 18/61
6.12.2006 KRJ Kaurisrannan Ratsastajat Kür Vaativa B 2/57
10.12.2006 KRJ Gelb Kür Intermediaire I 25/50 61.197%
13.12.2006 KRJ CRI & Aatteen Kartano Vaativa B 28/50
13.12.2006 KRJ CRI & Aatteen Kartano Vaativa A 17/50
17.12.2006 KK Pakokauhu ja Holly Bush helppo C 27/30
17.12.2006 KK Pakokauhu ja Holly Bush K.N Special 5/14
17.12.2006 KK Pakokauhu ja Holly Bush helppo B 16/34
17.12.2006 KK Pakokauhu ja Holly Bush helppo A 18/29
17.12.2006 KK Pakokauhu ja Holly Bush vaativa B 22/22
17.12.2006 KK Pakokauhu ja Holly Bush vaativa A 1/21
17.12.2006 KRJ Muistojärven Kartano Vaativa B 47/60
17.12.2006 KRJ Muistojärven Kartano Vaativa A 24/60
17.12.2006 KRJ Kk No Life He A 54/108
17.12.2006 KRJ Kk No Life Va B 30/102
18.12.2006 KK Pakokauhu ja Holly Bush helppo C 4/28
18.12.2006 KK Pakokauhu ja Holly Bush K.N Special 16/19
18.12.2006 KK Pakokauhu ja Holly Bush helppo B 6/20
18.12.2006 KK Pakokauhu ja Holly Bush helppo A 10/18
18.12.2006 KK Pakokauhu ja Holly Bush vaativa B 8/23
18.12.2006 KK Pakokauhu ja Holly Bush vaativa A 9/15
19.12.2006 KK Pakokauhu ja Holly Bush helppo C 15/17
19.12.2006 KK Pakokauhu ja Holly Bush K.N Special 13/14
19.12.2006 KK Pakokauhu ja Holly Bush helppo B 18/21
19.12.2006 KK Pakokauhu ja Holly Bush helppo A 9/19
19.12.2006 KK Pakokauhu ja Holly Bush vaativa B 19/21
19.12.2006 KK Pakokauhu ja Holly Bush vaativa A 5/16
20.12.2006 KK Pakokauhu ja Holly Bush helppo C 19/21
20.12.2006 KK Pakokauhu ja Holly Bush K.N Special 2/14
20.12.2006 KK Pakokauhu ja Holly Bush helppo B 7/21
20.12.2006 KK Pakokauhu ja Holly Bush helppo A 6/24
20.12.2006 KK Pakokauhu ja Holly Bush vaativa B 19/22
20.12.2006 KK Pakokauhu ja Holly Bush vaativa A 16/17
20.12.2006 KRJ Delacornia Helppo A 34/125
20.12.2006 KRJ Delacornia Vaativa B 3/104
21.12.2006 KRJ Kisatalli Wonderfoal Vaativa A 9/94
21.12.2006 KRJ Kisatalli Wonderfoal Intermediaire I 40/56
21.12.2006 Stallion Hill Vaikea B 46/51
21.12.2006 Stallion Hill Vaikea A 1/51
21.12.2006 KK Pakokauhu ja Holly Bush helppo C 1/29
21.12.2006 KK Pakokauhu ja Holly Bush K.N Special 1/19
21.12.2006 KK Pakokauhu ja Holly Bush helppo B 1/29
21.12.2006 KK Pakokauhu ja Holly Bush helppo A 12/30
21.12.2006 KK Pakokauhu ja Holly Bush vaativa B 2/23
21.12.2006 KK Pakokauhu ja Holly Bush vaativa A 1/15
23.12.2006 KRJ Hillava Helppo C 136/190
23.12.2006 KRJ Hillava Helppo B 123/232
30.12.2006 KRJ Pientalli étén Helppo B 5/30
30.12.2006 KRJ Pientalli étén Helppo A 19/30
31.12.2006 KRJ FSRa helppo B 85/102
31.12.2006 KRJ FSRa KN Special 50/74
---------------------
1.1.2007 KRJ FSRa helppo B 166/168
1.1.2007 KRJ FSRa KN Special 29/124
3.1.2007 KRJ Pärlemor Vaativa B 95/112
3.1.2007 KRJ Pärlemor Vaativa A 79/92
11.11.2007 KRJ Pihla Mera Helppo C 25/27
---------------------
19.3.2008 KRJ Hösten '52 Intermediate 62/111
19.3.2008 KRJ Hösten '52 Kür Grand Prix 41/98
20.3.2008 KRJ Karmiini Vaativa A 167/270
20.3.2008 KRJ Karmiini Grand Prix 25/234
20.3.2008 KRJ Amoun Arabians Helppo C 3/30
20.3.2008 KRJ Amoun Arabians Helppo A 23/30
20.3.2008 KRJ Virtuaalitalli Luna F Vaativa B 29/226
20.3.2008 KRJ Virtuaalitalli Luna F Vaativa A 161/204
21.3.2008 KRJ Bronn Intermediate I 29/36
21.3.2008 KRJ Bronn Grand Prix 31/36
22.3.2008 KRJ Bronn Intermediate I 8/36
22.3.2008 KRJ Bronn Grand Prix 16/36
23.3.2008 KRJ Bronn Intermediate I 17/36
23.3.2008 KRJ Bronn Grand Prix 8/36
24.3.2008 KRJ Karies Vaativa A 20/50
24.3.2008 KRJ Karies Intermediaire I 19/50
24.3.2008 KRJ Unafraid Intermediaire I 1/30
24.3.2008 KRJ Unafraid Intermediaire II 24/30
23.3.2008 KRJ Karmiini Vaativa A 182/207
23.3.2008 KRJ Karmiini Grand Prix 33/125
24.3.2008 KRJ Legend Lagoon Vaativa A 124/257
24.3.2008 KRJ Legend Lagoon Grand Prix 161/178
25.3.2008 KRJ Amoun Arabians Helppo C 14/30
25.3.2008 KRJ Amoun Arabians Helppo A 20/30
25.3.2008 KRJ Nallekarkki Vaativa A 11/32
25.3.2008 KRJ Nallekarkki Intermediaire II 18/19
28.3.2008 KRJ Virtuaalitalli Bratislava Va A 22/30
28.3.2008 KRJ Virtuaalitalli Bratislava Va A 11/30
28.3.2008 KRJ Virtuaalitalli Bratislava Va A 27/30
29.3.2008 KRJ Granvik Stuter Helppo A 35/60
29.3.2008 KRJ Granvik Stuter Vaativa A 52/60
4.4.2008 KRJ (P) Toppari Helppo C, vaikeustaso 0 28/29
4.4.2008 KRJ (P) Toppari KN Special, vaikeustaso 0 25/25
4.4.2008 KRJ (P) Toppari Helppo B, vaikeustaso 0 17/31
4.4.2008 KRJ (P) Toppari Helppo A, vaikeustaso 0 29/30
5.4.2008 KRJ (P) Poem's Warmbloods KN Special 27/31
5.4.2008 KRJ (P) Poem's Warmbloods Helppo A 4/38
5.4.2008 KRJ (P) Toppari Helppo C, vaikeustaso 0 22/33
5.4.2008 KRJ (P) Toppari KN Special, vaikeustaso 0 9/25
5.4.2008 KRJ (P) Toppari Helppo B, vaikeustaso 0 16/32
5.4.2008 KRJ (P) Toppari Helppo A, vaikeustaso 0 7/31
6.4.2008 KRJ (P) Toppari Helppo C, vaikeustaso 0 17/36
6.4.2008 KRJ (P) Toppari KN Special, vaikeustaso 0 33/35
6.4.2008 KRJ (P) Toppari Helppo B, vaikeustaso 0 3/38
6.4.2008 KRJ (P) Toppari Helppo A, vaikeustaso 0 12/35
10.4.2008 KRJ (P) Kisakeskus Kimakka Helppo B 41/74
10.4.2008 KRJ (P) Kisakeskus Kimakka Helppo A 61/68
15.4.2008 KRJ Vista Ridge/USVA Helppo B 1/5
15.4.2008 KRJ Vista Ridge/USVA Vaativa B 3/5
15.4.2008 KRJ Vista Ridge/USVA Helppo B 4/5
15.4.2008 KRJ Vista Ridge/USVA Vaativa B 4/5
17.4.2008 KRJ Vaapukka Intermediate II 14/40
17.4.2008 KRJ Vaapukka Grand Prix 30/40
17.4.2008 KRJ Vaapukka Intermediate II 14/40
17.4.2008 KRJ Vaapukka Grand Prix 22/40
17.4.2008 KRJ Vaapukka Intermediate II 12/40
17.4.2008 KRJ Vaapukka Grand Prix 28/40
17.4.2008 KRJ Vaapukka Intermediate II 27/40
17.4.2008 KRJ Vaapukka Grand Prix 7/40
17.4.2008 KRJ Vaapukka Intermediate II 2/40
17.4.2008 KRJ Vaapukka Grand Prix 24/40
18.4.2008 KRJ Toppari Helppo A 20/50
18.4.2008 KRJ Toppari Vaativa B 5/50
18.4.2008 KRJ Toppari Vaativa A 8/50
18.4.2008 KRJ Toppari Intermediate I 10/50
18.4.2008 KRJ Toppari Grand Prix 13/50
19.4.2008 KRJ Toppari Helppo A 16/50
19.4.2008 KRJ Toppari Vaativa B 39/50
19.4.2008 KRJ Toppari Vaativa A 32/50
19.4.2008 KRJ Toppari Intermediate I 13/50
19.4.2008 KRJ Toppari Grand Prix 44/50
22.4.2008 KRJ Toppari Helppo A 48/50
22.4.2008 KRJ Toppari Vaativa B 8/50
22.4.2008 KRJ Toppari Vaativa A 36/50
22.4.2008 KRJ Toppari Intermediate I 15/50
22.4.2008 KRJ Toppari Grand Prix 30/50
24.4.2008 KRJ(P) Tarapapa Helppo B (S) 28/30
24.4.2008 KRJ(P) Tarapapa Helppo A (S) 27/30
25.4.2008 KRJ Keltavaara He B 8/40
25.4.2008 KRJ Keltavaara Va A 30/40
25.4.2007 KRJ Evergrey Prix St Georges 38/150
25.4.2007 KRJ Evergrey Intermediate II 39/141
26.4.2007 KRJ Evergrey Prix St Georges 104/163
26.4.2007 KRJ Evergrey Intermediate II 135/154
26.4.2008 KRJ(P) Kaviokopse Helppo A (S) 26/35
27.4.2007 KRJ Evergrey Prix St Georges 105/163
27.4.2007 KRJ Evergrey Intermediate II 60/154
2.5.2008 KRJ(P) Kotikolo Helppo C 11/14
2.5.2008 KRJ(P) Kotikolo Helppo B 15/17
3.5.2008 KRJ(P) Kotikolo Helppo C 14/14
3.5.2008 KRJ(P) Kotikolo Helppo B 6/16
23.1.09 KRJ Isilme vaativa A 39/70
23.1.09 KRJ Pipari Vaativa A 40/44
24.1.09 KRJ Isilme vaativa A 13/70
25.1.09 KRJ Onnen Suomenhevoset INTERMEDIATE I 2002 11/50
25.1.09 KRJ Isilme vaativa A 25/70
31.1.09 KRJ Holgate Vaativa A 20/100
Gold Stone Show boards
10/08 GS Nocturnal Eventing Show CCI*** 3/3 TOP TEN 5p
11/2008 GS Only The Lonely Dressage Show Intermediaire II Dressage 2/2 RESERVE CHAMPION 8p
11/2008 GS Mare Halter Junior Mares (4 to 6 years) 10/15 TOP TEN 5p
11/2008 GS Idiot Jumping Show Level 8 - 4'6-4'9 2/3 RESERVE CHAMPION 8p
11/2008 GS MP3 Player Jumping Show Level 8 - 4\'6-4\'9 1/3 CHAMPION 10p
11/2008 GS Red Planet Dressage Show Intermediaire II Dressage 2/2 RESERVE CHAMPION 8p
11/2008 GS Swishing Fishes Eventing Show CCI*** 1/2 CHAMPION 10p – CHAMPION OF SHOW 20p $30.000
11/2008 GS Monkey Bars Dressage Show Intermediaire II Dressage 1/2 CHAMPION 10p – RESERVE CHAMPION OF SHOW 15p $10.000
11/2008 GS Holographic Jumping Show Jumping 4'6-4'9 1/7 CHAMPION 10p
11/2008 GS Butter Popcorn Dressage Show Intermediaire II Dressage 4/5 TOP TEN 5p
11/2008 SAI's Hot Diggity Dog Three Day Event CCI*** Level 2/2 RESERVE CHAMPION
12/2008 GS Prison Break Jumping Show Jumping 4'6-4'9 4/4 TOP TEN 5p
12/2008 GS Tropical Punch Eventing Show CCI*** 3/3 TOP TEN 5p
12/2008 GS Surrender Dressage Show Intermediaire II Dressage 2/4 RESERVE CHAMPION 8p
12/2008 GS Cactus Blossom Dressage Show Intermediaire II Dressage 2/4 RESERVE CHAMPION 8p
12/2008 GS Green Berets Dressage Show Intermediaire II 2/4 RESERVE CHAMPION 8p
12/2008 GS Stargate SG1 Jumping Show 4'6-4'9 2/4 RESERVE CHAMPION 8p
12/2008 GS Rattle Snake Dressage Show Intermediaire II 3/4 TOP TEN 5p
12/2008 GS Scary Movie Dressage Show Intermediaire II 1/3 CHAMPION 10p
12/2008 GS Drag Racing Dressage Show Intermediaire II 2/3 RESERVE CHAMPION 8p
12/2008 GS Red Spritz Jumping Show 4'6-4'9 5/7 TOP TEN 5p
12/2008 GS Jingle Bells Dressage Show Intermediaire II 5/5 TOP TEN 5p
12/2008 GS Santa Clause Dressage Show Intermediaire II 3/5 TOP TEN 5p
01/2009 GS Doves Wings Eventing Show CCI*** 3/3 TOP TEN 5p
01/2009 GS White Christmas Jumping Show 4'6-4'9 4/4 TOP TEN 5p
01/2009 GS Baby Birds Jumping Show 4'6-4'9 5/5 TOP TEN 5p
01/2009 GS Funny Bones Eventing Show CCI*** 3/3 TOP TEN 5p
01/2009 GS New Year 2009 Dressage Show Intermediaire II 4/4 TOP TEN 5p
01/2009 GS Crinkle Cut Dressage Show Intermediaire II 4/4 TOP TEN 5p
01/2009 GS Pied Finch Eventing Show CCI*** 2/3 RESERVE CHAMPION 8p
01/2009 GS Tweety Birds Jumping Show 4'6-4'9 3/5 TOP TEN 5p
01/2009 GS French Kiss Dressage Show Intermediaire II 1/3 CHAMPION 10p
01/09 GS Summer Breeze Jumping Show 4'6-4'9 4/4 TOP TEN 5p
01/09 GS Neon Buzz Eventing Show CCI*** 1/3 CHAMPION 10p
01/09 GS Gold Bullion Dressage Show Intermediaire II 2/3 RESERVE CHAMPION 8p
01/09 GS Sunburn Lobster Jumping Show 4'6-4'9 5/5 TOP TEN 5p
01/09 GS Aussie Heatwave Jumping Show 4'6-4'9 6/6 TOP TEN 5p
01/09 GS Movie Star Dressage Show Intermediaire II 2/3 RESERVE CHAMPION 8p
01/09 GS Silver Siren Dressage Show Intermediaire II 3/3 TOP TEN 5p
02/09 GS Raccoons Revenge Jumping Show 4'6-4'9 4/5 TOP TEN 5p
02/09 GS Apple Blossom Eventing Show CCI*** 4/4 TOP TEN 5p
02/09 GS Marguerite Daisy Dressage Show Intermediaire II 2/4 RESERVE CHAMPION 8p
02/09 GS Orange Blossom Dressage Show Intermediaire II 2/5 RESERVE CHAMPION 8p
02/09 GS GS African Violet Dressage Show Intermediaire II 4/4 TOP TEN 5p
Other Show Boards
10/08 BInc. Sweet October Jumper Show Level VIII Jumpers 1/5
10/2008 BInc. Sweet October Eventing Show CCI*** 5/5
11/2008 SAI's Super Heros Warmblood/Sporthorse Halter Show Warmblood Mares 19th
11/2008 SAI's Boogieman Three Day Event CCI*** Level 3/5
11/2008 SAI's Frankenstein Dressage Show Freestyle Introductory - 4th Level 24/34
12/2008 SAI's Finding Nemo Three Day Event CCI*** Level 6/7
12/2008 SAI's 101 Dalmatians Jumping Show Advanced Level 4'3 - 5' 11/14
01/2009 ASDA New Years Fiesta Intermediare II 1/5 73.322% 10p
01/2009 BInc. Dutch Jumper Show Level VIII Jumpers (4'6"-4'9") 3/5
01/09 ASDA Dressage In The Rain Show Intermediare II 2/11 10p
01/09 ASDA Snow Fun Dressage Show Intermediare II 1/11 10p
01/09 ASDA 2008 World Show Intermediare II DAY 1 5/12 5p
01/09 ASDA 2008 World Show Intermediare II DAY 2 9/12
01/09 ASDA 2008 World Show Intermediare II DAY 3 2/12 10p
01/09 GS Blackburn Eventing Show CCI*** 3/3 TOP TEN 5p