Post by MilliM on Oct 5, 2010 16:52:56 GMT 2
Sim Game Horse - Virtuaalihevonen
Bay Roan Blanket Appaloosa Mare for Working Cow Horse: Reining, Roping, Cutting
HoF./SCh. Justifiable Maiden "Justine"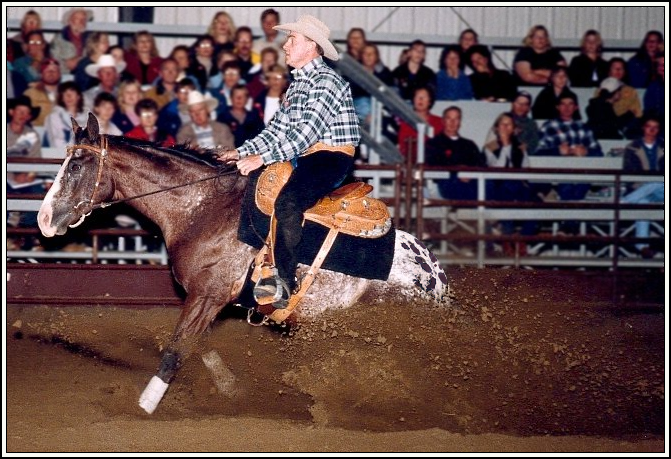 Photograph provided under creative commons license from Foto search
Stock Photography and Stock Footage
Sired by
Justified
out of
GCh. Apache Maiden*
DOB: May 20 2006
Height/Säkä: 15.3hh
Extended pedigree
Sired by
Justified
Just Plain Colonel (Colonel Freckles x Gray Nelly)
Thiefs Of Diamonds (Doc O Dynamite x Thief Of Hearts)
Foaled out of
GCh. Apache Maiden*
Tee-Co Patch
(Apache Lagrimas x Colidas Sandra)
Ipana Maid
(High Hand x Pinkey)
Offspring
Appaloosa colt
Juliard VR
sired by
GCh./GCh. Myriad F'Sho
* ASApHC Grand Champion
* ASApHC 2010 Grand Champion Appaloosa Colt of the Year
Previous owner tells about her...
Her sire's pedigree is a who's-who of the biggest sires in Reining with Doc O Lena, Colonel
Freckles, and Peppy San Badger on his papers; he was bred to SLLLIDE, and his daughter is
sliding right into his deeply imprinted hoofprints. Her dam is an amazing combination of the
working lines of Tee-Co Patch and the showing lines of Ipana Maid - an incredible mare that
used to destroy the competition in the western show ring, do a nice trail ride, and now throws
some incredible foals. Justifiable Maiden is justifiably bred and undeniably talented; she is
headed to the very top of the Reining & Cutting circuits in all-sim.
CONDITIONS OF SALE
> Kalla Hawk reserves buy-back rights and/or first refusal for life.
> If horse is sold, my conditions will remain effective to the new owner also.
> If this horse is inactive for a substantial length of time, Kalla will reclaim.
> Kalla Hawk requires URLs for any foals this horse may have in future.
> Horse will compete ONLY in the classes as listed, and/or In-Hand.
> If retired to breeding status, horses will still show in occasional Halter classes.
> If remaining in all-sim, horse MUST be actively shown on WWS & SAI - at least.
> Horse may be imported into a sim horse game, but Kalla MUST be notified.
> Horse may be aged to 3 years younger than sire & dam. Other stats may not change.
> Any new photographs or photo changes MUST be approved by Kalla Hawk.
> Appaloosas MUST be actively shown in the All-Sim Appaloosa Horse Club.
> Unless otherwise noted, the horse MUST be actively shown in the All-Sim Working Cow Horse Association.
> Conditions of Sale MUST be posted on the horse's new page, or horse will be reclaimed.
COMPLETE SHOW RECORD
Lifetime Earnings:
$61,000
All-Sim Appaloosa Horse Club Points:
1970
All-Sim Reining & Cutting Horse Association Points:
0
All-Sim Working Cow Horse Association Points:
620
All-Sim Stock Horse Association Points:
20
All-Sim Professional Roping Association {ASPRA}:
40
Other Barn & Non-Club Points:
80
All-Sim Points Total:
1,475
Overall Show Titles:
2011 ASApHC Klein Masters Grand Champion of Show $50,000 + 50 pts
Qualifications
2010 ASApHC International Year-End Qualifiers 2 Junior Open Cutting TOP THREE 10pts $1,000
2010 ASApHC International Year-End Qualifiers 2 Limited Cutting TOP THREE 10pts $1,000
2010 ASApHC 2010 International Year-End Qualifiers 3 Limited Reined Cow Horse TOP THREE 10pts $1,000
Divisional Show Titles:
Champion: Futurity Division - ASWCHA Grand Opening Halter Classic [$20,000 + 20 pts]
Champion: Western Division @ ASApHC Canadian Chevrolet Series, Show 2 [$25,000 + 25 pts]
2010 ASWCHA Madrid Classic Junior Open Reined Cow Horse Mare CHAMPION 20 pts $20,000
2010 ASWCHA Madrid Classic Junior Limited Cutting RESERVE CHAMPION 20 pts $20,000
2010 ASApHC October Western Bonanza Junior Limited Reining CHAMPION 20pts $20,000
2010 ASApHC October Western Bonanza Limited Cutting RESERVE CHAMPION 20pts $20,000
2010 ASApHC Rose Time Annual Memorial Limited Reining TOP TEN CHAMPION 20pts $20,000
2010 ASApHC Rose Time Annual Memorial Junior Open Reining RESERVE CHAMPION 20pts $20,000
2010 ASApHC Rose Time Annual Memorial Junior Open Calf Roping RESERVE CHAMPION 20pts $20,000
2010 ASApHC 2010 Prince Plaudit Annual Memorial Limited Cutting CHAMPION 20pts $20,000
2010 ASApHC 2010 Prince Plaudit Annual Memorial Junior Open Calf Roping RESERVE CHAMPION 20pts $20,000
2010 ASApHC International Year-End Event Limited Cutting RESERVE CHAMPION 25pts $2,500
2011 ASApHC Quarterly Invitational SME Junior Cutting RESERVE CHAMPION 20pts $20,000
2011 ASApHC Quarterly Invitational SME Junior Reined Cow Horse CHAMPION 20pts $20,000
2011 ASApHC Catherby Competition Freestyle Reining CHAMPION 20pts $20,000
2011 ASApHC Catherby Competition Junior Cutting CHAMPION 20pts $20,000
2011 ASApHC Edmonton Spotlight Junior Calf Roping RESERVE CHAMPION 20pts $20,000
2011 ASApHC Ambry Arena Junior Calf Roping RESERVE CHAMPION 20pts $20,000
2011 ASApHC BMX Sponsored Classic Junior Calf Roping CHAMPION 20pts $20,000
2011 ASApHC California Appaloosa Circuit Junior Reining RESERVE CHAMPION 20pts $20,000
2011 ASApHC California Appaloosa Circuit Junior Cutting RESERVE CHAMPION 20pts $20,000
Top Tens:
Top Ten: Open Bridle WCH Futurity ~ ASWCHA First Working Classic [$1,000 + 10 pts]
Top Ten: Open Snaffle WCH Futurity ~ ASWCHA First Working Classic [$1,000 + 10 pts]
Top Ten: Open Hackamore WCH Futurity ~ ASWCHA First Working Classic [$1,000 + 10 pts]
Top Ten: Two Rein WCH Filly Class ~ ASWCHA First Working Classic [$1,000 + 10 pts]
Top Ten: Futurity Cutting Suitability - ASWCHA Grand Opening Halter Classic [$1,000 + 10 pts]
Top Ten: Futurity WCH Filly Suitability - ASWCHA Grand Opening Halter Classic [$1,000 + 10 pts]
Top Ten: Open Bridle WCH Futurity - ASWCHA January Spec Event [$1,000 + 10 pts]
Top Ten: Three Year Old at Halter - WWS Jan2010 Age Halter Event [$10,000 + 10 pts]
Top Ten: Calf Roping Futurity (age 2-3 y/o) WWS Roping Mastership #1 [$10,000 + 10 pts]
Top Ten: Freestyle Roping Futurity (2-3 y/o) WWS Roping Mastership #1 [$10,000 + 10 pts]
Top Ten: Freestyle Roping Open (all ages) WWS Roping Mastership #1 [$10,000 + 10 pts]
Top Ten: Speed Roping Futurity (age 2-3 y/o) WWS Roping Mastership #1 [$10,000 + 10 pts]
Top Ten: Three Year Old at Halter - WWS Jan2010 Supreme Halter Event [$1,000 + 10 pts]
Top Ten: Timed Freestyle Reining Futurity (2-3 y/o) WWS Reining Mastership #2 [$1,000 + 10 pts]
Top Ten: Musical Freestyle Reining Futurity (2-3 y/o) WWS Reining Mastership #2 [$1,000 + 10 pts]
Top Ten: Open Bridle WCH Futurity - ASWCHA Second Working Classic [$1,000 + 10 pts]
Top Ten: Two Rein WCH Filly - ASWCHA Second Working Classic [$1,000 + 10 pts]
Top Ten: 3 Year Old at Halter - ASWCHA January In-Hand Show [$1,000 + 10 pts]
Top Ten: Open Bridle WCH Filly - ASWCHA January Mare Event [$1,000 + 10 pts]
Top Ten: Open Snaffle WCH Filly - ASWCHA January Mare Event [$1,000 + 10 pts]
Top Ten: Open Hackamore WCH Filly - ASWCHA January Mare Event [$1,000 + 10 pts]
Top Ten: Reining Freestyle Filly - ASWCHA January Mare Event [$1,000 + 10 pts]
Top Ten: Open Bridle Working Cow Horse Futurity - ASWCHA Third Working Classic [$1k + 10 pts]
Top Ten: Open Snaffle Working Cow Horse Futurity - ASWCHA Third Working Classic [$1k + 10 pts]
Top Ten: Two Rein Working Cow Horse Filly - ASWCHA Third Working Classic [$1k + 10 pts]
Top Ten: Futurity Cutting (2-3y/o) ASApHC January 2010 R/C Classic {$1,000 + 10 pts}
Top Ten: Open Futurity In-Hand (out of 45) ASApHC January 2010 Halter Classic [$1,000 + 10 pts]
Top Ten: Futurity Horse at Liberty - ASApHC Aubrie International [$1,000 + 10 pts]
Top Ten: Open Ages at Halter - ASApHC Anson International [$1,000 + 10 pts]
Top Ten: Blanket Pattern (out of 54 entries) ASApHC Anson International [$1,000 + 10 pts]
Top Ten: Reining Futurity Class - ASApHC Feb2010 WCH Classic [$1,000 + 10 pts]
Top Ten: Cutting Futurity Class - ASApHC Feb2010 WCH Classic [$1,000 + 10 pts]
Top Ten: Open Cutting Class - ASApHC Feb2010 WCH Classic [$1,000 + 10 pts]
Top Ten: Futurity Roping Class - ASApHC Feb2010 WCH Classic [$1,000 + 10 pts]
Top Ten: Futurity WCH Class - ASApHC Feb2010 WCH Classic [$1,000 + 10 pts]
Top Ten: Three Year Old at Halter ~ ASApHC Avery Belle International [$1,000 + 10 pts]
Top Ten: Open Pattern at Halter ~ ASApHC Avery Belle International [$1,000 + 10 pts]
Top Ten: Futurity Horse at Liberty ~ ASApHC Avery Belle International [$1,000 + 10 pts]
Top Ten: Lunge Line Division, Futurity ~ ASApHC Avery Belle International [$1,000 + 10 pts]
Top Ten: Walk/Jog Showmanship Futurity ~ ASApHC Avery Belle International [$1,000 + 10 pts]
Top Ten: Futurity Timed Roping - ASApHC Feb2010 Roping Spotlight [$1,000 + 10 pts]
Top Ten: Timed Roping Open Class - ASApHC Feb2010 Roping Spotlight [$1,000 + 10 pts]
Top Ten: Futurity Cutting Class - ASApHC Feb2010 Roping Spotlight [$1,000 + 10 pts]
Top Ten: Futurity Calf Roping Class - ASApHC Feb2010 Roping Spotlight [$1,000 + 10 pts]
Top Ten: Open Calf Roping Class - ASApHC Feb2010 Roping Spotlight [$1,000 + 10 pts]
Top Ten: Futurity Breakaway Roping - ASApHC Feb2010 Roping Spotlight [$1,000 + 10 pts]
Top Ten: Open Breakaway Roping - ASApHC Feb2010 Roping Spotlight [$1,000 + 10 pts]
Top Ten: Three Year Old at Halter | ASApHC Enya International | $1,000 + 10 pts
Top Ten: Futurity horse at Liberty | ASApHC Enya International | $1,000 + 10 pts
Top Ten: Lunge Line Futurity Horse | ASApHC Enya International | $1,000 + 10 pts
Top Ten: Walk/Jog Showmanship, Futurity | ASApHC Enya International | $1,000 + 10 pts
Top Ten: Junior Cutting (4-7y/o) ASApHC February 2010 R/C Classic ($1,000 + 10pts)
Top Ten: Futurity Timed Roping - ASApHC Feb2010 Roping Spotlight II [$1,000 + 10 pts]
Top Ten: Timed Roping Open - ASApHC Feb2010 Roping Spotlight II [$1,000 + 10 pts]
Top Ten: Futurity Cutting - ASApHC Feb2010 Roping Spotlight II [$1,000 + 10 pts]
Top Ten: Open Cutting - ASApHC Feb2010 Roping Spotlight II [$1,000 + 10 pts]
Top Ten: Futurity Calf Roping - ASApHC Feb2010 Roping Spotlight II [$1,000 + 10 pts]
Top Ten: Calf Roping Open - ASApHC Feb2010 Roping Spotlight II [$1,000 + 10 pts]
Top Ten: Futurity Breakaway Roping - ASApHC Feb2010 Roping Spotlight II [$1,000 + 10 pts]
Top Ten: Open Ages at Halter @ ASApHC Arija In-Hand International #2 [$1,000 + 10 pts]
Top Ten: Junior Working Cow Horse @ ASApHC LeapYear Roping Classic 1 [$1,000 + 10 pts]
Top Ten: Junior Cutting Class - ASApHC March 2010 R/C Classic [$1,000 + 10 pts]
Top Ten: Junior Cutting Class - ASApHC LeapYear Roping Classic 3 [$1,000 + 10 pts]
Top Ten: Junior Roping Class - ASApHC LeapYear Roping Classic 3 [$1,000 + 10 pts]
Top Ten: Junior Working Cow Horse - ASApHC LeapYear Roping Classic 3 [$1,000 + 10 pts]
Top Ten: Open Working Cow Horse - ASApHC LeapYear Roping Classic 3 [$1,000 + 10 pts]
Top Ten: Junior Cutting Class @ ASApHC LeapYear Roping Classic 4 [$1,000 + 10 pts]
Top Ten: Junior Roping Class @ ASApHC LeapYear Roping Classic 4 [$1,000 + 10 pts]
Top Ten: Open Roping Class @ ASApHC LeapYear Roping Classic 4 [$1,000 + 10 pts]
Top Ten: Junior Working Cow Horse @ ASApHC LeapYear Roping Classic 4 [$1,000 + 10 pts]
Top Ten: Open Ages at Halter @ ASApHC Arija In-Hand International #4 [$1,000 + 10 pts]
Top Ten: Junior Cutting Class @ ASApHC LeapYear Roping Classic 2 [$1,000 + 10 pts]
Top Ten: Open Working Cow Horse @ ASApHC LeapYear Roping Classic 2 [$1,000 + 10 pts]
Top Ten: Junior Cutting (4-7y/o) ASApHC LeapYear Roping Classic 5 [$1,000 + 10 pts]
Top Ten: Open Cutting Class @ ASApHC LeapYear Roping Classic 5 [$1,000 + 10 pts]
Top Ten: Junior Roping Class @ ASApHC LeapYear Roping Classic 5 [$1,000 + 10 pts]
Top Ten: Open Roping Class @ ASApHC LeapYear Roping Classic 5 [$1,000 + 10 pts]
Top Ten: Junior Working Cow Horse @ ASApHC LeapYear Roping Classic 5 [$1,000 + 10 pts]
Top Ten: Open Working Cow Horse @ ASApHC LeapYear Roping Classic 5 [$1,000 + 10 pts]
Top Ten: Cutting Div. Junior @ ASApHC LeapYear Roping Classic 6 [$1,000 + 10 pts]
Top Ten: Cutting Div. Open @ ASApHC LeapYear Roping Classic 6 [$1,000 + 10 pts]
Top Ten: Junior Roping Class @ ASApHC LeapYear Roping Classic 6 [$1,000 + 10 pts]
Top Ten: Open Roping Class @ ASApHC LeapYear Roping Classic 6 [$1,000 + 10 pts]
Top Ten: Open Snaffle WCH Futurity @ ASWCHA Fourth Working Classic [$1,000 + 10 pts]
Top Ten: Open Hackamore WCH Futurity @ ASWCHA Fourth Working Classic [$1,000 + 10 pts]
Top Ten: Two Rein WCH Filly @ ASWCHA Fourth Working Classic [$1,000 + 10 pts]
Top Ten: Open Bridle WCH Filly @ ASWCHA February Mare Spotlight [$1,000 + 10 pts]
Top Ten: Open Snaffle WCH Filly @ ASWCHA February Mare Spotlight [$1,000 + 10 pts]
Top Ten: Combination Roping Filly @ ASWCHA February Mare Spotlight [$1,000 + 10 pts]
Top Ten: Reining Freestyle Filly @ ASWCHA February Mare Spotlight [$1,000 + 10 pts]
Top Ten: Open Reining Combination Filly @ ASWCHA February Mare Spotlight [$1,000 + 10 pts]
Top Ten: Open Hackmore WCH Junior @ ASWCHA 5th Working Classic ($1,000 + 10 points)
Top Ten: Combination Cutting/Roping Junior @ ASWCHA 5th Working Classic ($1,000 + 10 points)
Top Ten: Limited Bridle WCH Junior @ ASWCHA 6th Working Classic ($1,000 + 10 points)
Top Ten: Combination Cutting/Roping Junior @ ASWCHA 6th Working Classic ($1,000 + 10 points)
Top Ten: Two Rein WCH Mare Junior @ ASWCHA 6th Working Classic ($1,000 + 10 points)
Top Ten: Futurity Reining Class @ ASSHA Breeders Show February 2010 (2 pts)
Top Ten: Futurity Calf Roping Class @ ASSHA Breeders Show February 2010 (2 pts)
Top Ten: Futurity Breakaway Roping Class @ ASSHA Breeders Show February 2010 (2 pts)
Top Ten: Futurity Working Cow Horse @ ASSHA Breeders Show February 2010 (2 pts)
Top Ten: Futurity Reining Class @ ASSHA European Championships 2010 (2 pts)
Top Ten: Futurity Calf Roping @ ASSHA European Championships 2010 (2 pts)
Top Ten: Futurity Breakaway Roping @ ASSHA European Championships 2010 (2 pts)
Top Ten: Futurity Working Cow Horse @ ASSHA European Championships 2010 (2 pts)
Top Ten: Futurity Filly at Halter @ ASSHA Region II Experience 2010 (2 pts)
Top Ten: Junior Breakaway Roping @ ASSHA Canadian Nationals 2010 (2 pts)
Top Ten: Limited Bridle WCH Mare @ ASWCHA March Mare Event [$1,000 + 10 pts]
Top Ten: Limited Hackamore WCH Mare @ ASWCHA March Mare Event [$1,000 + 10 pts]
Top Ten: Open Combination Cutting Mare @ ASWCHA March Mare Event [$1,000 + 10 pts]
Top Ten: Limited Combination Cutting Mare @ ASWCHA March Mare Event [$1,000 + 10 pts]
Top Ten: Open Combination Roping Mare @ ASWCHA March Mare Event [$1,000 + 10 pts]
Top Ten: Open Two Rein WCH Mare @ ASWCHA March Mare Event [$1,000 + 10 pts]
Top Ten: Limited Reining Freestyle Mare @ ASWCHA March Mare Event [$1,000 + 10 pts]
Top Ten: Open Combination Reining Mare @ ASWCHA March Mare Event [$1,000 + 10 pts]
Top Ten: Open Combination Reining Mare @ ASWCHA March Mare Event [$1,000 + 10 pts]
Top Ten: Combination Cutting/Roping Junior ~ ASWCHA 7th Working Classic [$1,000 + 10 pts]
Top Ten: Open Hackamore WCH Junior @ ASWCHA Eighth Working Classic [$1,000 + 10 pts]
Top Ten: Combination Cutting/Roping Junior @ ASWCHA Eighth Working Classic [$1,000 + 10 pts]
Top Ten: Open Bridle WCH Junior ~ ASWCHA Tenth Working Classic ($1,000 + 10 points)
Top Ten: Open Hackamore WCH Junior ~ ASWCHA Tenth Working Classic ($1,000 + 10 points)
Top Ten: Limited Bridle WCH Mare - ASWCHA 1st Mare Classic ($1,000 + 10 points)
Top Ten: Junior Open Reining @ ASApHC Marchend Western Event [$1,000 + 10 pts]
Top Ten: Junior Open Cutting @ ASApHC Marchend Western Event [$1,000 + 10 pts]
Top Ten: Junior Limited Reining @ ASApHC Canadian Chevrolet series 1 [$1,000 + 10 pts]
Top Ten: Limited Cutting @ ASApHC Canadian Chevrolet series 1 [$1,000 + 10 pts]
Top Ten: Junior Open Reined Cow Horse @ ASApHC Canadian Chevrolet series 1 [$1,000 + 10 pts]
Top Ten: Limited Reined Cow Horse @ ASApHC Canadian Chevrolet series 1 [$1,000 + 10 pts]
Top Ten: Limited Calf Roping @ ASApHC Canadian Chevrolet series 1 [$1,000 + 10 pts]
Top Ten: Junior Open Reining @ ASApHC Canadian Chevrolet Series, Show 2 [$1,000 + 10 pts]
Top Ten: Junior Limited Reining @ ASApHC Canadian Chevrolet Series, Show 2 [$1,000 + 10 pts]
Top Ten: Junior Open Reined Cow Horse @ ASApHC Canadian Chevrolet Series, Show 2 [$1,000 + 10 pts]
Top Ten: Limited Reined Cow Horse @ ASApHC Canadian Chevrolet Series, Show 2 [$1,000 + 10 pts]
Top Ten: Junior Open Calf Roping @ ASApHC Canadian Chevrolet Series, Show 2 [$1,000 + 10 pts]
Top Ten: Limited Calf Roping @ ASApHC Canadian Chevrolet Series, Show 2 [$1,000 + 10 pts]
Top Ten: Junior Open Reining @ ASApHC Canadian Chevrolet Series Three [$1,000 + 10 pts]
Top Ten: Junior Limited Reining @ ASApHC Canadian Chevrolet Series Three [$1,000 + 10 pts]
Top Ten: Limited Cutting @ ASApHC Canadian Chevrolet Series Three [$1,000 + 10 pts]
Top Ten: Junior Open Reined Cow Horse @ ASApHC Canadian Chevrolet Series Three [$1,000 + 10 pts]
Top Ten: Limited Reined Cow Horse @ ASApHC Canadian Chevrolet Series Three [$1,000 + 10 pts]
Top Ten: Junior Calf Roping @ ASApHC Canadian Chevrolet Series Three [$1,000 + 10 pts]
2010 ASWCHA October Classic Junior Open WCH TOP TEN 10 pts $1,000
2010 ASWCHA October Classic Junior Limited WCH TOP TEN 10 pts $1,000
2010 ASWCHA Madrid Classic Junior Open Reining TOP TEN 10 pts $1,000
2010 ASWCHA Madrid Classic Junior Open Reining Mare TOP TEN 10 pts $1,000
2010 ASWCHA Madrid Classic Junior Open Cutting TOP TEN 10 pts $1,000
2010 ASWCHA Madrid Classic Junior Open Cutting Mare TOP TEN 10 pts $1,000
2010 ASWCHA Madrid Classic Junior Open Roping Mare TOP TEN 10 pts $1,000
2010 ASWCHA Madrid Classic Junior Limited Roping TOP TEN 10 pts $1,000
2010 ASWCHA Madrid Classic Junior Open Reined Cow Horse TOP TEN 10 pts $1,000
2010 ASWCHA Madrid Classic Junior Limited Reined Cow Horse TOP TEN 10 pts $1,000
2010 ASApHC October Western Bonanza Junior Open Reining TOP TEN 10pts $1,000
2010 ASApHC October Western Bonanza Junior Open Cutting TOP TEN 10pts $1,000
2010 ASApHC October Western Bonanza Junior Open Reined Cow Horse TOP TEN 10pts $1,000
2010 ASApHC October Western Bonanza Junior Open Calf Roping TOP TEN 10pts $1,000
2010 ASApHC October Western Bonanza Limited Calf Roping TOP TEN 10pts $1,000
2010 ASApHC Rose Time Annual Memorial Junior Open Cutting TOP TEN 20pts $2,000
2010 ASApHC Rose Time Annual Memorial Limited Cutting TOP TEN 20pts $2,000
2010 ASApHC Rose Time Annual Memorial Junior Open Reined Cow Horse TOP TEN 20pts $2,000
2010 ASApHC 2010 Prince Plaudit Annual Memorial Junior Open Reined Cow Horse TOP TEN 20pts $2,000
2010 ASApHC 2010 Prince Plaudit Annual Memorial Limited Calf Roping TOP TEN 20pts $2,000
2010 ASApHC International Year-End Event Junior Open Cutting TOP TEN 20pts $2,000
2010 ASApHC International Year-End Event Junior Open Reined Cow Horse TOP TEN 20pts $2,000
2010 ASApHC International Year-End Event Limited Reined Cow Horse TOP TEN 20pts $2,000
2010 ASApHC International Year-End Event Limited Calf Roping TOP TEN 20pts $2,000
2010 ASPRA Grand Opening Arena Meltdown Junior Team Roping TOP TEN 10pts $1,000
2010 ASPRA November Classic Junior Team Roping TOP TEN 10pts $1,000
2010 ASPRA Pre-Christmas 2010 Event Junior Team Roping TOP TEN 10pts $1,000
2010 ASPRA December 2010 Chevrolet Classic Junior Team Roping TOP TEN 10pts $1,000
2011 ASApHC Quarterly Invitational SME Freestyle Reining TOP TEN 20pts $2,000
2011 ASApHC Quarterly Invitational SME Junior Calf Roping TOP TEN 20pts $2,000
2011 ASApHC Brand New Year Gala Junior Reining TOP TEN 10pts $1,000
2011 ASApHC Brand New Year Gala Junior Calf Roping TOP TEN 10pts $1,000
2011 ASApHC Catherby Competition Junior Reining TOP TEN 10pts $1,000
2011 ASApHC Catherby Competition Junior Reined Cow Horse TOP TEN 10pts $1,000
2011 ASApHC SME Bright Eyes Brother Annual Memorial Freestyle Reining TOP TEN 20pts $2,000
2011 ASApHC SME Bright Eyes Brother Annual Memorial Junior Cutting TOP TEN 20pts $2,000
2011 ASApHC SME Bright Eyes Brother Annual Memorial Junior Reined Cow Horse TOP TEN 20pts $2,000
2011 ASApHC Jacksonville Classic Freestyle Reining TOP TEN 10pts $1,000
2011 ASApHC Jacksonville Classic Junior Reined Cow Horse TOP TEN 10pts $1,000
2011 ASApHC Jacksonville Classic Junior Calf Roping TOP TEN 10pts $1,000
2011 ASApHC Klein Masters Junior Reining TOP TEN 10pts $1,000
2011 ASApHC Klein Masters Freestyle Reining TOP TEN 10pts $1,000
2011 ASApHC Klein Masters Junior Cutting TOP TEN 10pts $1,000
2011 ASApHC Klein Masters Junior Reined Cow Horse TOP TEN 10pts $1,000
2011 ASApHC Klein Masters Junior Calf Roping TOP TEN 10pts $1,000
2011 ASApHC Absarokee Sunset Annual Memorial SME Freestyle Reining TOP TEN 20pts $2,000
2011 ASApHC Absarokee Sunset Annual Memorial SME Junior Reined Cow Horse TOP TEN 20pts $2,000
2011 ASApHC Absarokee Sunset Annual Memorial SME Junior Calf Roping TOP TEN 20pts $2,000
2011 ASApHC Ambry Arena Junior Reined Cow Horse TOP TEN 10pts $1,000
2011 ASApHC BMX Sponsored Classic Junior Reining TOP TEN 10pts $1,000
2011 ASApHC BMX Sponsored Classic Junior Cutting TOP TEN 10pts $1,000
2011 ASApHC BMX Sponsored Classic Junior Reined Cow Horse TOP TEN 10pts $1,000
2011 ASApHC Bentley & Atlas Event Junior Reining TOP TEN 10pts $1,000
2011 ASApHC Bentley & Atlas Event Junior Cutting TOP TEN 10pts $1,000
2011 ASApHC Bentley & Atlas Event Junior Reined Cow Horse TOP TEN 10pts $1,000
2011 ASApHC Bentley & Atlas Event Junior Calf Roping TOP TEN 10pts $1,000
2011 ASApHC California Appaloosa Circuit Junior Reined Cow Horse TOP TEN 10pts $1,000
2011 ASApHC California Appaloosa Circuit Junior Calf Roping TOP TEN 10pts $1,000
2011 ASApHC Seattle Appaloosa Show Junior Reining TOP TEN 10pts $1,000
2011 ASApHC Seattle Appaloosa Show Junior Cutting TOP TEN 10pts $1,000
2011 ASApHC Seattle Appaloosa Show Junior Reined Cow Horse TOP TEN 10pts $1,000
2011 ASApHC Seattle Appaloosa Show Junior Calf Roping TOP TEN 10pts $1,000