Post by MilliM on May 19, 2010 12:02:05 GMT 2
Virtuaalihevonen - Sim Game Horse
2009 Gray Straight Egyptian Arabian stallion for dressage / Kimo Egyptinarabi ori kouluratsastukseen
O Bey Hifas ox "Hifas"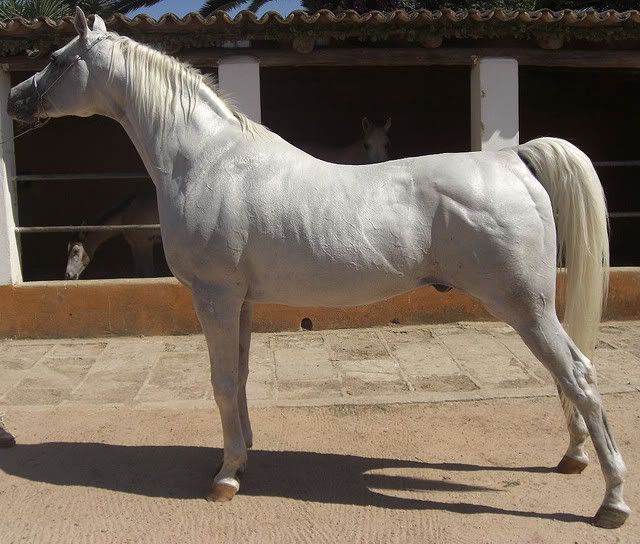 Copyrights:
szedlisa
, under CC
Sired by
Hania Domino
out of
Misty Moonlight
Born/Syntynyt: 31.10.2009 (Täyttänyt 3v 21.1.2010)
Color: Gray (Black), Ee/aa/GG (3rd generation gray that will produce always gray)
Height/Säkä: 152cm
Breeder/Kasvattaja: MilliM / Star Avenue
Competing in Dressage 2nd&3rd level
Extended pedigree
Sired by:
Hania Domino
Trophy Dan
(Guldorf GG xBin Bin)
Alliante J
(Gregiry J x Miss Mindy J)
Foaled out of:
Misty Moonlight
Capudo
(Al Hindo x Cubina)
Moonlight Mist
(Moco x Surine Shiny Lady)
Luonne
Luonteeltaan tämä ori on normaaleista oreista poikkeava. Välillä omistajass aon tuntunut, että ruunahan tämä on. Hifas ei saa tammoista mitään viboja ja sen vuoksi se osaa keskittyä kilpailutilanteissakin herkeämättä. Lisäksi Hifas ei missään vaihessa ole oppinut ärhentelemään muille oreille. Tämän vuoksi oriin kilpailuhermotkin kestävät erittäin hyvin ja sen kanssa kisaaminen on aivan käsittämättömän mahtavaa.
Hoidettaessa Hifas on kultaistakin kultaisempi hörisijä. En muista että sillä olisi ollut huonoa päivään vielä kertaakaan minun muistini aikana. Harjapakin kanssa suosittelen olemaan varovainen, jos ei halua hankkia uusia harjoja joka harjausurakan jälkeen. Oriilla on nimittäin tapana pureskella kaikkia harjoja ajankulukseen. Poika on todella kova juttelemaan harjatessa ja juttua riittää myös muille. Jos tallissa on muita hevosia, niin sen on pakko jutella myös niille. Välillä on jopa hauskaakin kuunnella sen hörhöttelyä ja hirnahtelua, mutta pidemmän päälle se puuduttaa ja alkaa ärsyttämään. Satulointivaihe on vaihe on varmaankin ainoa vaihe, jossa tämä vieterieläin ei tunnu pysyvän nahoissaan ja se alkaa sähläämään oikein urakalla. Tämä on kuitenkin vain intoa sitä kohtaan että päästään tekemään töitä. Sähläys jatkuu siihen asti kunnes ratsastaja on selässä. Sen jälkeen se keskittyy täysin työhön.
Ratsastettaessa ori on hyvin joustava ja kevytliikeinen. Suustaan se on herkkä ja tiukassa otteessa sen liikkeet muuttuvat jäykiksi tai täysin veltoiksi. Se ei tosiaankaan halua tehdä töitä tuolloin. Kos Hifas ei ole normaali ori poika, niin sen kanssa voi ratsastaa hyvin kevyillä otteilla, koska karkaamisen pelkoa ei tarvitse olla. Oriin ravi on aivan käsittämättömän ihanaa ja tasaista ja laukka on matkaa voittavaa ja rauhallista. Kuten huomaatte, niin oriin askellajit ovat aivan mahtavat, mutta niiden taustalla on monien sukupolvien jalostustyö. Maastoilemiseen tämä ori tarvitsee aina kaveri, muuten retkestä ei tule mitään. Hifas pelkää kaikkia pieniäkin rasahduksia ollessaan yksin maastolenkillä, mutta kun kaverin kanssa mennään, niin ori on hyvin rauhallinen.
AHAC
AHAC points:AHAC title:
05/10 AHAC-A Elgwir Arabians Sporthorse Show Junior Sporthorse Stallions In-Hand TOP TEN 2p
05/10 AHAC-A Elgwir Arabians Sporthorse Show Second Level Dressage TOP TEN 2p
05/10 AHAC-A Elgwir Arabians Sporthorse Show Third Level Dressage TOP TEN 2p
07/10 AHAC Jordan National Championships Colt Futurity TOP TEN 8p
07/10 AHAC Jordan National Championships Classic Head Colts RESERVE CHAMPION 10p
07/10 AHAC Jordan National Championships Sporthorse Colts In-Hand TOP TEN 8p
07/10 AHAC Jordan National Championships Third Level Dressage TOP TEN 8p
07/10 AHAC Czech National Championships Colt Futurity TOP TEN 8p
07/10 AHAC Czech National Championships Most Classic Colt TOP TEN 8p
07/10 AHAC Czech National Championships Junior Sporthorse Stallions In-Hand TOP TEN 8p
07/10 AHAC Czech National Championships Third Level Dressage TOP TEN 8p
07/10 AHAC Emerald Egyptian Colt Futurity TOP TEN 8p
ASDA
ASDA points:ASDA title:
2010 ASDA Ocean Eyes Dressage Show Third Level 10/10
2010 ASDA Ocean Eyes Dressage Show Freestyle 12/17
2010 ASDA Spring Series #1 Second Level Test 1 7/7 5pts $5,000
2010 ASDA Spring Series #1 Second Level Test 2 6/7 5pts $5,000
2010 ASDA Spring Series #4 Second Level Test I 7TH 10pts $10,000
2010 ASDA Spring Series #4 Second Level Test II
RESERVE CHAMPION 20pts $20,000 65.030%
2010 ASDA Spring Series #4 Freestyle 34TH
2010 ASDA Spring Series #6 Second Level Test I 4th 10pts $10,000
2010 ASDA Spring Series #6 Second Level Test II 14th
2010 ASDA Spring Series #6 Freestyle 48th